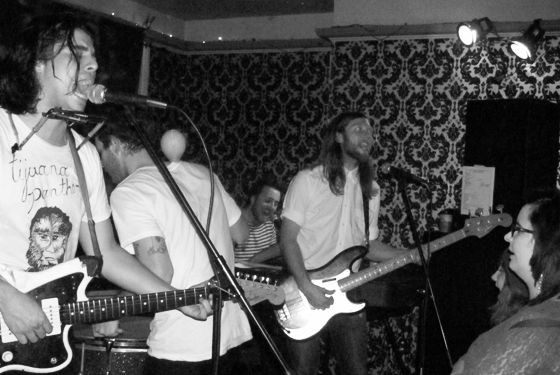 MP3: Delta Spirit – "Bushwick Blues"
Delta Spirit rolled into Pittsburgh last Tuesday in support of their excellent new album, History From Below. If you haven't heard these guys before, you're doing yourself a disservice; the San Diego natives combine folk, Northern soul, and rock and roll into a muscular sound that can hold its own against any band touring today.
With two critically acclaimed albums under their belt and a tireless work ethic, Delta Spirit are primed to break through into the mainstream and become household names. During the show, I couldn't help but think that these guys could be the next Kings Of Leon. Laugh if you will, but if you've heard early Kings Of Leon, the comparison isn't so far-fetched.
The band opened up with their take on Leadbelly's "John Henry," which had lead singer Matt Vasquez screaming into the mic through a fuzz box, distorting his already gravelly voice. The temperature kept rising in the small venue, and the band's energy seemed to rise with it.
The masterful fifteen-song set was a nice mixture of songs from History From Below and 2008's Ode To Sunshine. New standouts like "Bushwick Blues" and "White Table" proved to be highly potent live, and older material such as "People C'mon" and "Trash Can" turned the show into a foot-stomping dance party. The band closed the night with a singalong of "Motivation" and a heartfelt performance of "People Turn Around."
Delta Spirit are of the most promising and talented young bands out there, and it's only a matter of time before they achieve rock stardom. I wouldn't be surprised if the next time I get to see them, it'll be at a much bigger venue with thousands of fans singing along to every word.
Photos of Delta Spirit – November 30, 2010