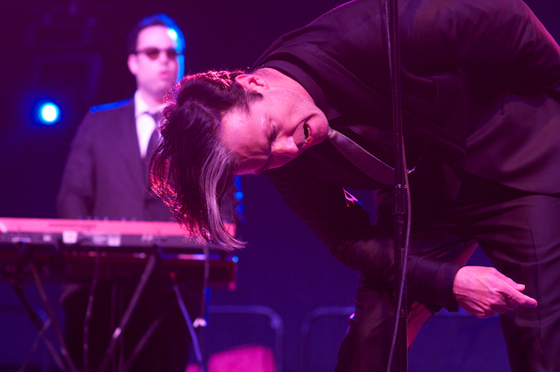 Just six months ago, almost nobody knew Fitz and the Tantrums existed. The LA six-piece had just one release under its belt — 2009's Songs For a Breakup, Vol. 1 EP — and had yet to introduce the masses to its riveting brand of neo-soul. But in August of this year, the band released its debut full-length, Pickin' Up the Pieces, and everything changed. The album's first single, "Moneygrabber," has been getting some serious radio play, and the group has quickly earned a reputation for putting on exhilarating live shows.
Fortunately for us, a lot of that reputation has been built right here in San Diego. Fitz and the Tantrums played this year's inaugural Rocktoberfest, where they upstaged all the local bands on the bill. Then, last month, the band wowed the audience at KPRI's private listener show in La Costa. Two shows in such quick succession from a band of that caliber is more than any city could ask for, but Fitz and the Tantrums aren't done with us yet.
On December 17, the band is coming back to our neck of the woods for, not one, but two shows. The first will be a free performance at the Mission Hills vinyl mecca M-Theory Records. Fitz and the Tantrums are known for calling out anyone in the audience who isn't dancing, and the sight of the tiny record store packed with ecstatic dancers is one you won't want to miss — if you can fit inside. Then, Fitz and Co. will head up to Solana Beach to open for The Greyboy Allstars at the Belly Up Tavern, tickets for which can be purchased here.
For those of you who didn't major in math, that makes for a grand total of four San Diego shows in three months from the fastest-rising band. Clearly, our proximity to LA has its benefits. And if Fitz and the Tantrums play with half the verve and swagger they've brought to their last two performances, it won't be long before everyone in San Diego knows — and loves — them.
Photos of Fitz and the Tantrums at Rocktoberfest