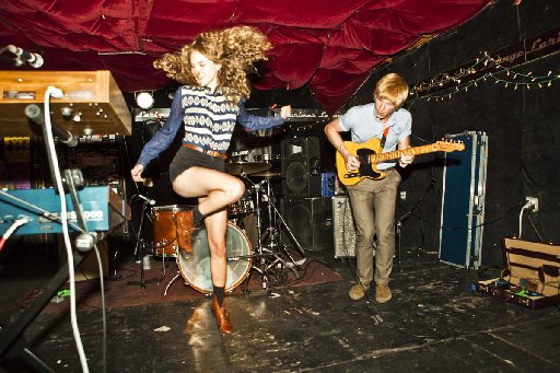 Tennis just released their debut album, Cape Dory, on January 18, and they're already one of the hottest bands around.
The Denver duo is comprised of the married Patrick Riley and Alaina Moore, who met while attending the University of Colorado. They named their band Tennis to poke fun at their aristocratic inclinations — Riley used to play the sport, they both studied philosophy, and they also love sailing.
It was the latter interest that provided the genesis for Cape Dory. After graduating, the pair embarked on a 7-month sailing trip around the Eastern seaboard, and upon returning, recorded the album as a way to document the journey. In an interview with Paste Magazine, Riley had this to say:
Music presented itself as a way to transmit and preserve those memories [of our trip]. To be honest, living at sea is really the only thing that inspires us. There is no one to take influence from, no Internet, no judgment, just pure unmediated life.
That lust for life is the wind in Cape Dory's sails. Clocking in at a brisk 29 minutes, the album is a blissed-out collection of lush, airy pop, with songs like "Marathon" and "Take Me Somewhere" sounding like treasures unearthed from some 1960's time capsule.
The nostalgic vibe is derived in part from the band's simplistic approach. As Riley explains, "Simplicity and self-sufficiency were our highest priorities…Having to do everything yourself [on the sailing trip] made its way into our album by not having a producer, recording it ourselves, mixing it ourselves, very little production, etc."
The dearth of studio trickery allows the songs to shine through, which they do brightly. You can see and hear for yourself at the Tin Can Alehouse on February 5, where they'll be joined by openers Lord Huron and Air Waves — that is, if you bought tickets already. According to the Tin Can's blog, the show is already sold out.
Tennis tour dates
February 3 Bottom of the Hill San Francisco, CA
February 4 Echo Los Angeles, CA
February 5 The Tin Can Ale House San Diego, CA
February 7 Hotel Congress Tucson, AZ
February 8 Rhythm Room Phoenix, AZ
February 10 Hi Dive Denver, CO
February 17 Jackpot Lawrence, KS
February 18 Slowdown Omaha, NE
February 19 7th Street Entry Minneapolis, MN
February 21 High Noon Saloon Madison, WI
February 22 Lincoln Hall Chicago, IL
February 25 Horseshoe Tavern Toronto, ON
February 26 Il Motore Montreal, QC
February 27 Iron Horse Northampton, MA
February 28 Great Scott Boston, MA
March 2 Bowery Ballroom New York, NY
March 3 The Bell House Brooklyn, NY
March 4 Johnny Brenda's Philadelphia, PA
March 5 Rock and Roll Hotel Washington, DC
March 7 Local 506 Chapel Hill, NC
March 8 Grey Eagle Asheville, NC
March 10 The Basement Nashville, TN
March 11 The Earl Atlanta, GA
March 12 The Social Orlando, FL
March 13 The Orpheum Tampa, FL
March 15 The Parish @ HOB New Orleans, LA