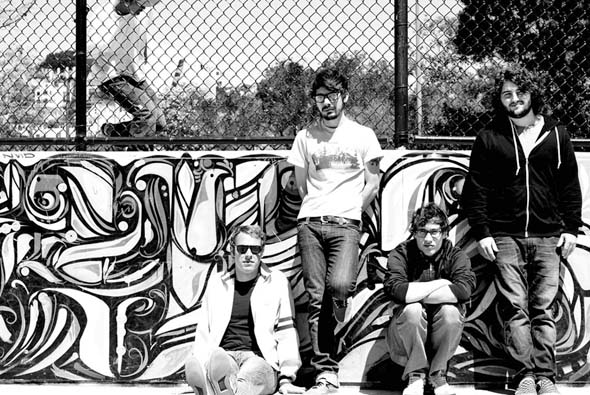 MP3: The Lonely Forest – "Coyote"
Things are about to get busy for The Lonely Forest. Not only did they just release their third LP, Arrows, on March 22, but they're also planning two tours within the next four months — including a special headlining show at UCSD's Loft on April 17 and a stint with indie-rock giants Death Cab for Cutie (more on them below).
The Lonely Forest's Loft show will be their only headlining date with The Joy Formidable. After their tour with the Joy Formidable ends, they'll join Death Cab for Cutie's "Underplay" tour. Not coincidentally, The Lonely Forest's Arrows was produced by Death Cab's Chris Walla.
Death Cab, for their part, will release their seventh album, Codes And Keys, on May 31. To promote the new album, they'll be streaming "the first live, scripted, one-take music video ever" on the Internets today at 4pm PST (UPDATE: You can see the completed video here). Death Cab's Ben Gibbard also just recorded a track for Russell Brand's upcoming film Arthur, which you can stream here.
The Lonely Forest on tour
04/6 – Minneapolis, MN – 7th Street Entry*
04/8 – Denver, CO – Larimer Lounge*
04/9 – Salt Lake City, UT – Kilby Court*
04/11 – Portland, OR – Mississippi Studios*
04/12 РSeattle, WA РCrocodile Caf̩*
04/14 – San Francisco, CA – Bottom of the Hill*
04/16 – Costa Mesa, CA – Detroit Bar*
04/17* – San Diego, CA – UCSD-The Loft* (Headline date)
04/19 – Phoenix, AZ – Rhythm Room*
04/20 – Albuquerque, NM – Launch Pad*
04/22 – St. Louis, MO – Luminary Center for the Arts*
04/23 – Kansas City, MO – The Riot Room*
04/26 – Cleveland, OH – The Grog Shop*
04/27 – Pittsburgh, PA – The Smiling Moose*
04/29 – New York, NY – Webster Hall*
05/18 – Toronto, ON – Phoenix Concert Theatre^
05/20 – Chicago, IL – Metro^
05/21 – Minneapolis, MN – First Avenue^
06/1 – New York, NY – Bowery Ballroom^
06/3 – Washington, D.C. – 9:30 Club^
06/4 – Philadelphia, PA – Trocadero^
06/5 – Boston, MA – Paradise^
06/7 – Los Angeles, CA – El Rey Theatre^
06/9 – San Francisco, CA – The Fillmore^
* = The Joy Formidable
^ = Death Cab for Cutie