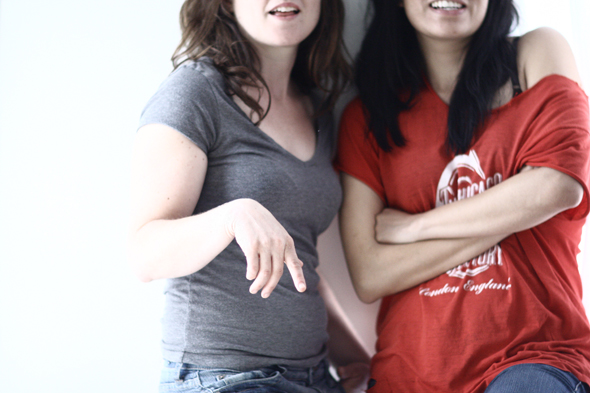 MP3: Thao and Mirah – "Eleven" (feat. tUnE-YaRdS)
Celebrated songwriters Thao and Mirah are working together, and they're taking their show on the road. The collaboration, creatively called Thao and Mirah, has also spawned an LP, titled (you guessed it) Thao and Mirah.
On the album — set to drop April 26 — the two eclectic ladies combine their unique skills to create something distinctive in itself. Recorded in two weeks with the help of tUnE-YaRdS mastermind Merrill Garbus, Thao and Mirah is a melody-driven effort that makes use of everything from traditional instruments like drums and slide guitar, to kneecaps and bottles.
The superduo will bring their quirky rock to the Casbah on June 21, where, safe to say, their kneecaps will also make an appearance.
Rocking the Casbah is a good cause in and of itself, but Thao and Mirah aren't stopping there. During their upcoming tour, they'll team up with Air Traffic Control, an organization that helps musicians promote causes from the road. The social-savvy duo is also media-savvy, so for updates of all kinds, definitely check out Thao and Mirah's accounts on Twitter.
Photos: Thao with the Get Down Stay Down at the Casbah & Belly Up, 2009 & 2010

Thao and Mirah on tour
05/01 – Los Angeles, CA – Troubadour *
05/02 – Santa Barbara, CA – Soho *
05/03 – Oakland, CA – The New Parish *
05/05 – Vancouver, BC, Canada – The Biltmore *
05/06 – Bellingham, WA – Mt Baker Theatre #
05/07 – Seattle, WA – Crocodile *
05/08 – Portland, OR – Wonder Ballroom *
05/09 – Olympia, WA – Northern *
06/02 – Minneapolis, MN – Cedar Cultural Center *
06/03 – Chicago, IL – Empty Bottle *
06/05 – Toronto, ON, Canada – Lee's Palace *
06/07 – Cambridge, MA – TT The Bears *
06/09 – Philadelphia, PA – First Unitarian Church *
06/10 – Washington, DC – Black Cat *
06/11 – Chapel Hill, NC – Local 506
06/12 – Asheville, NC – Grey Eagle
06/13 – Atlanta, GA – The Earl
06/15 – St Louis, MO – Off Broadway *
06/18 – Denver, CO – Hi-Dive
06/19 – Albuquerque, NM – Launchpad
06/20 – Phoenix, AZ – Rhythm Room *
06/21 – San Diego, CA – Casbah *
06/23 – San Francisco, CA – Great American Music Hall
* = Led to Sea
# = The New Pornographers