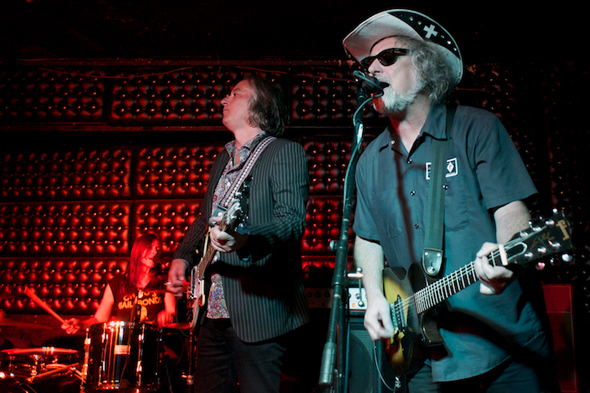 MP3: The Baseball Project – "1976" (via Paste)
MP3: Maren Parusel – "Dear Love"
On the eve of MLB opening day, The Baseball Project brought good music, obscure references, and flat-out giddiness to San Diego's Casbah.
The niche supergroup, comprised of Steve Wynn (Dream Syndicate), Scott McCoughey (The Minus Five and Young Fresh Fellows), Linda Pitmon, and some guy named Peter Buck (REM), treated fans to a full set of baseball-themed songs and friendly banter. The set included tracks from the The Baseball Project's debut, Frozen Ropes, as well as their new album, High and Inside.
The band played each song with good humor and affection for the game, with set highlights including High and Inside opener "1976" and the gloriously profane "Ted Fucking Williams." Wynn dedicated "1976" to late Big Star singer Alex Chilton and Detroit Tiger Mark "The Bird" Fidrych, both of whom — according to Wynn's lyrics — ended up "Dead before your time/but so long beyond your prime." The song could have been a downer, but turned out to be free of the shackles of nostalgia. In fact, it seemed to embody the band's core philosophy: applaud your heroes, but also remember that they do come and go (especially in music and sports) — and there's just nothing a fan can do but enjoy the moment.
San Diego's Maren Parusel opened the show with her brand of Bowie-esque indie rock. During the excellent set — culled largely from her new album, Artificial Gardens — the German-born Parusel admitted to a limited knowledge of baseball, having only recently caught her first (little league) game. Nobody minded, though, since her band was dead-on and the baseball fans in attendance weren't the judging type.
As the evening came to an end, The Baseball Project's affable members hung around and talked to fans until venue staff kicked everyone out — proving once again that, despite its imperfections, America's Favorite Pastime is at its best when it brings people together.
Photos – The Baseball Project – March 30, 2011

Photos – Maren Parusel – March 30, 2011

The Baseball Project on tour
04/07 – Bend, OR – Silver Moon Brewing
04/08 – Eugene, OR – Sam Bonds
04/09 – Portland, OR – Bunk Bar
04/29 – Brooklyn, NY – The Bell House
04/30 – Ringwood, NJ – Live at Drew's
05/01 – Hoboken, NJ – Hoboken Street Festival
Maren Parusel on tour
04/07 – Tokyo Garden – Fresno, CA
04/09 – San Diego Festival of Beers – San Diego, CA
04/16 – SPIN Records – Carlsbad, CA
04/27 – The Mint – Los Angeles, CA
05/07 – Bar 11 – San Diego, CA