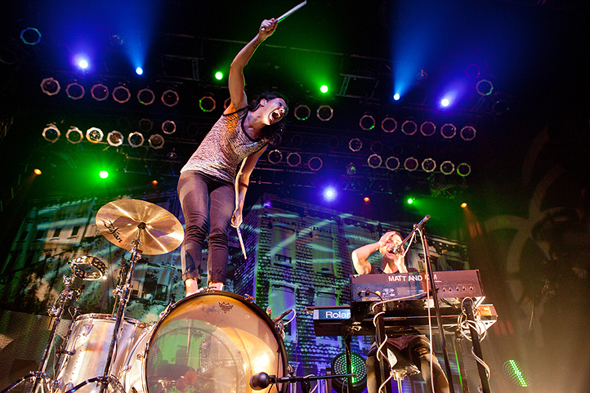 Matt and Kim brought their grin-inducing pop music and high-energy antics to the House of Blues last Thursday night.
An early crowd lined the block waiting to get in, and openers Le Blorr had a good crowd present for their set. The Thermals' set heightened the energy in the room as they blasted through songs covering the full depth of their catalog. Favorites from The Body, The Blood, The Machine and More Parts Per Million were mixed with newer tunes off their latest, Now We Can See.
By the time Matt and Kim took the stage, the humidity in the venue was approaching 100%, so when Kim requested that the males in the audience take off their shirts and wave them around, most happily obliged. The couple bounced around the stage, standing on stools, bass drums, and even the crowd while delivering feel-good music that made it impossible to stand still.
Photos – Matt & Kim, The Thermals, and Le Blorr at the Casbah – June 16, 2011