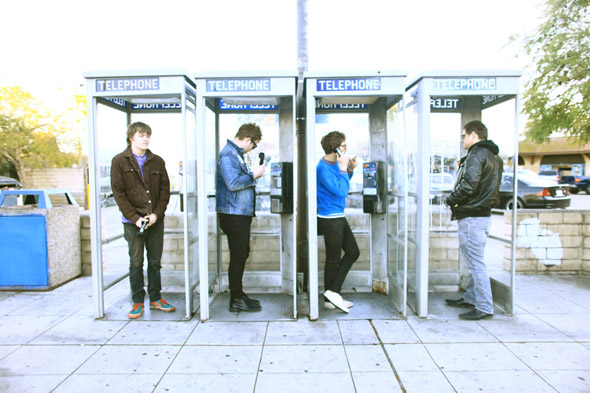 This Saturday, August 20, San Diego punk band Plateaus will play the Soda Bar with fellow locals Heavy Hawaii, Beaters, and LA's Bleached.
Plateaus, whose name comes from a "tongue-in-cheek statement about the SoCal music scene," are comprised of Kevin Gist (lead guitar, vocals), Chris Rosi (rhythm guitar, vocals), Elliott Moeller (bass), and Jon Greene (drums). The band was founded by Greene (who has produced bands like Dum Dum Girls, Crocodiles, and The Soft Pack) and Gist with the intention of creating a form of "deranged but classic pop music."
In an attempt to familiarize you with the band and their sound, we asked Plateaus for five songs that are important to them. You can read their Poetic Memory below.
Plateaus' Poetic Memory
http://youtu.be/BJIqnXTqg8I
The Stooges – "I Wanna Be Your Dog"
The Stooges are Elliott's favorite band and this was the first song he heard. He always plays it during sound check. It has a good feel and it always gives Elliott a boner.
The Tronics – "Favorite Girls"
The Tronics have pop sensibility mixing catchy melodies with minimal musical arrangement.

Guided by Voices – "As We Go Up We Go Down"
The band is not in total agreement on this one. Kevin pretty much exclusively listens to GBV, whereas Elliott finds them to be boring sensitive jocks. Rosi in particular hates the song "Bulldog Skin."
http://youtu.be/YDMOFm4z0G4
Black Flag – "Nervous Breakdown"
This song has one of the most aggressive guitar sounds ever; it is pure raw energy. Greg Ginn has a very unique guitar style.

The Clean – "Oddity"
Collectively The Clean is one of our favorite bands. Really any of the New Zealand Flying Nun bands from the 80s are a huge influence on Plateaus.