Live Photos: The Donkeys, Mr. Tube, The Nervous Wreckords, and Jail Weddings at the Casbah, September 10, 2011
Written by owl and bear staff on Thursday, September 22nd, 2011 at 1:00pm.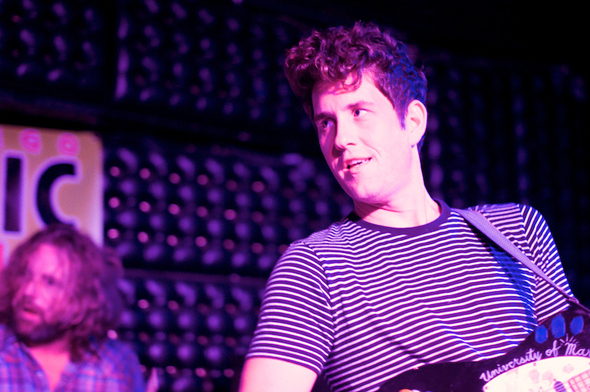 For music lovers, the San Diego Music Thing is like being a kid in a candy store — or 14 candy stores. Bands from near and far converge on bars and clubs all around San Diego, and picking which shows to see can be a difficult prospect. But on the festival's second night, you couldn't go wrong with hunkering down at the Casbah.
Beginning with a set by LA Spector-pop ensemble Jail Weddings, the Casbah boasted a terrific lineup that included Low Volts, Mr. Tube and the Flying Objects, The Nervous Wreckords, and headliners The Donkeys. It was a night of high-energy, enthralling sets, and we've got pictures of it below.
Photos – The Donkeys at the Casbah – September 10, 2011

Photos – Mr. Tube and the Flying Objects at the Casbah – September 10, 2011

Photos – The Nervous Wreckords at the Casbah – September 10, 2011

Photos – Jail Weddings at the Casbah – September 10, 2011

Tags jail weddings, Low Volts, Mr. Tube and the Flying Objects, Nervous Wreckords, San Diego Music Thing, the donkeys
Filed under listen, photos, san diego
Potentially related content