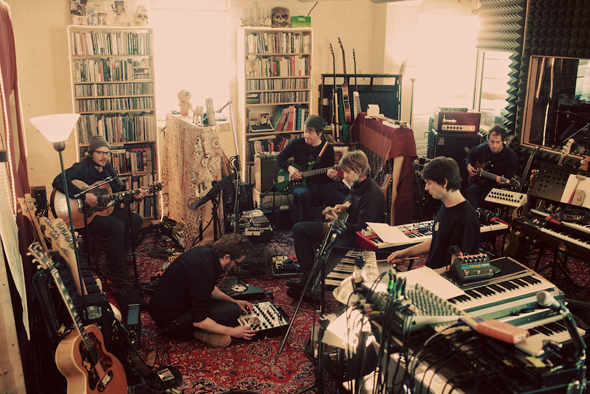 Wilco's eighth studio album, The Whole Love, greets you like a Mack truck driving slowly and unexpectedly through your front door.
The opening song, "Art of Almost," starts delicately — with strings and synth swelling from silence — but then the drums centrifuge around the beat, eventually reaching a peak that gives way to band mastermind Jeff Tweedy's unmistakable voice. As Tweedy's relaxed whisper floats over a fractured percussive pulse, Nels Cline is unleashed, barreling through a blistering guitar like a feral dog acquiring new freedom. By the completion of the chaos, a declarative statement has been made: Wilco is charting new territory. And the band does so with great ease, comfort, and success.
Wilco fans will especially love The Whole Love for its lack of limitations. The album is eclectic yet cohesive; as divergent as the Randy Newman-esque "Capitol City" is from the psychedelic experiment "Art of Almost," there is something that is distinctly Wilco throughout. Perhaps it is the unique use of atmospherics to bait the listener into a trance, Tweedy's descriptive-yet-sometimes vague poetics, or the great tones and dense layers on every track.
"I Might" is a great breath of garage pop, driven by Farfisa organs, catchy glockenspiel melodies, and interlocking guitar lines. On "Sunloathe," the band strips it down to a minimal but gradually building arrangement. Tweedy sings, "It's hard to recall / Hold on to it all / I kill my memories with a cheap disease." These stark lyrics delivered with spacious timing traverse a landscape of haunting guitar waves, moving bells, and harmonized vocal ambiance, setting the scene for an Abbey Road feel once the drums enter.
The closest thing to a misstep may be the generic rocker "Standing O," though, as with the rest of the album, it represents a certain era and sound that the band has embraced. It is a catchy, upbeat singalong, and thanks to its anthemic pace, serves as a nice segue into "Red Rising Lung," a finger-picked exercise in ghostly patience.
Overall, this album sees a great rock and roll band stepping forward, relying on their past as a foundation but not a crutch. The musicianship is at its highest caliber; The Whole Love is at once adventurous, playful, dead serious, and forgiving, and it's their best effort since Yankee Hotel Foxtrot.
Wilco on tour
01/19 – Denver, CO – Fillmore
01/21 – Tempe – Gammage
01/22 – San Diego – Copley Symph. Hall
01/24 – Los Angeles – Hollywood Palladium
01/28 – San Jose – Civic Aud.
01/29 – San Francisco – Warfield
01/31 – Oakland – Fox
02/01 – Davis – Mondavi Ctr.
02/03 – Eugene – Hult Ctr.
02/05 – Vancouver BC – Orpheum
02/06 – Spokane – INB Perf. Arts
02/07 – Seattle – Paramount
02/08 – Portland – Schnitzer
02/10 – Santa Barbara – Arlington Theater