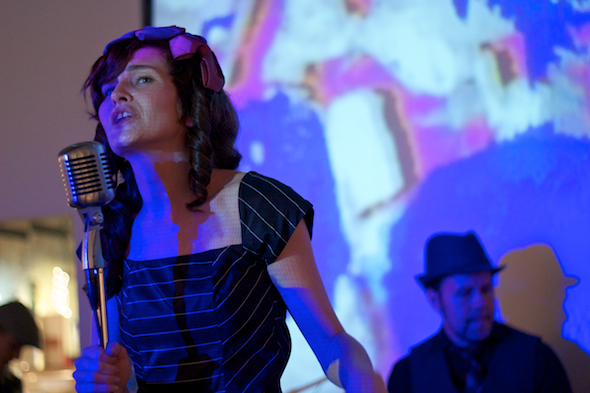 The November installment of Sight and Sound went off on Saturday night at University Heights' 3rd Space. As you might expect from the reliably classy event series, there was plenty to keep people entertained, including free massages, face painting, art, booze, and crepes. And because the night wouldn't have been complete without music, a pair of local heavyweights were on hand to serve up some tunes.
Following a set by a beatboxer named Generik (probably not the type of lead-in she's accustomed to), Miss Erika Davies took to the stage with her trustee band. Together, the trio — which included Gary Hankins on guitar and Christopher Carroll on drums — treated the crowd to songs from her gorgeous full-length, Galaxy Lakes.
Next, Nervous Wreckords frontman/Owl and Bear tee-shirt owner Brian Karscig unfurled some laid-back country ditties. The songs bore little resemblance to the rock-and-roll glitz of his normal band, but the intimate setting at 3rd Space proved an ideal setting for him to show off his twangy side.
Photos – Miss Erika Davies at 3rd Space – November 19, 2011

Photos – Brian Karscig at 3rd Space – November 19, 2011