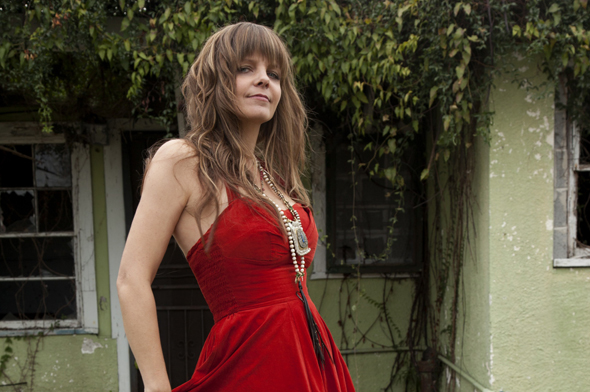 MP3: Theresa Andersson (with Peter Moren) – "What Comes Next"
One-woman band Theresa Andersson has announced the impending release of her new album, entitled Street Parade.
The freakishly talented musician made a splash in 2008 when a video of her in a kitchen performing the song "Na Na Na" — off the exuberant Hummingbird, Go! — went viral. In 2009, she astounded an unsuspecting crowd with a brilliant performance at the Casbash, and in 2010 she released a gorgeous live DVD of a performance at the Le Petit Theatre in her adopted home of New Orleans.
Set for release on April 24 via Basin Street Records, Street Parade promises to marry Andersson's Swedish roots with the gospel and soul of the Big Easy. She'll have some extra help with the Swedish part from Peter Moren of Peter Bjorn and John, who guests on the album track "What Comes Next," which you can download above.
And if she's at all lacking in experience with the New Orleans part, she won't be after February 16, when she performs at Mardi Gras with Krewe of Muses. Seeing as how Mardi Gras isn't exactly known for being a quiet, subdued affair, the sight of Andersson performing from a puppet-driven float with a 40-piece band of singers, drummers, and horn players shouldn't raise too many eyebrows. The sound of her captivating songwriting and astounding musicianship, on the other hand, should turn plenty of heads.
Theresa Andersson on tour
2/16/12 – New Orleans – Mardi Gras
3/8/12 – New York, NY – Joe's Pub
4/14/12 – Mobile, AL – Callaghan's Irish Social Club
4/18/12 – New Orleans – Lafayette Square
5/4/12 – New Orleans – JAZZFEST