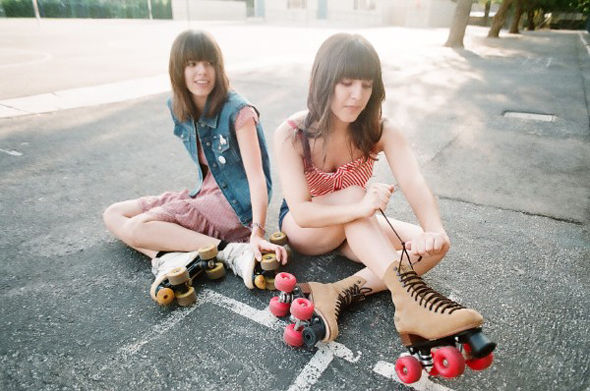 MP3: Summer Twins – "I Don't Care"
Full album stream: Summer Twins – Summer Twins
Indie fans are no strangers to "difficult" music. Last year, Bon Iver, St. Vincent, and Wye Oak all put out challenging albums that were nonetheless met with near-universal acclaim. That's all well and good, and those bands deserve all the attention they've received, but sometimes you just want music that's fun to listen to on a visceral level. Luckily, the self-titled album by California dreampop duo Summer Twins is just that.
From the bright guitar strums and girl-group harmonies of the opener, "Got Somebody to Dream About," to the relentless catchiness of "I Don't Care" (which, for better or worse, has the same chord progression as Blues Traveler's "Run-Around") Summer Twins is ten tracks of pure sonic bliss. And don't let the accessibility fool you; the album may be poppy, but its top-shelf songwriting and steely charm are anything but disposable.
That's why we're really excited to see Summer Twins when they come to Bar Pink on March 8. Don't miss your chance to catch the band in such an intimate setting. With songs this fun, they won't be playing small venues for long.
In anticipation of the Bar Pink show, Summer Twins' Chelsea and Justine Brown were kind enough to make a list of their influences for us, which you can read below.
Summer Twins Top 10 Influences
10. Cute things: We just love cute stuff! Particularly kittens, polka dots, birthday cakes, Japanese fashion, balloons, animals with huge eyes, and miniature versions of things. We get easily excited over things like pink drumsticks or a kitten wearing a little hat.
9. Buddy Holly: I (Chelsea) love Buddy Holly. I sort of have a crush on him. He was innovative for his time, he wrote great songs, and he was a badass; yet he had that cute, nerdy look. His guitar style has had a big influence on mine.
8. Crafts & D.I.Y.: Crafts were our first love. We like sewing, crocheting, altering clothes, making cards, making room decor, and working with paper. We try to incorporate craftiness into the band as much as we can in our album artwork, photoshoots, and music videos. I think the craziest thing we've done for the sake of art was moving Justine's bed to the middle of a field for a huge pillow fight.
7. Burger Records: I don't even know where to start when it comes to Burger Records! They are a great bunch of guys out of Fullerton, CA who put out vinyl and cassette tapes of new, old, obscure, punk, pop, catchy, dance-able, rock 'n roll. They are the kings of D.I.Y. in our book and they work so hard because they truly love music. They're passionate, enthusiastic, smart, and aren't afraid to reach high. They were one of the first to acknowledge us when we were starting out and have since helped us grow so much. They released a cassette for us last year, and just released our debut LP in January of this year! Who doesn't love Burgers? These guys are geniuses.
6. Growing up in Riverside: Riverside is a smaller, sort of sleepy city and it's not too far from L.A., so everything exciting usually goes on in L.A. There's not too much for young people to do here, so we had to make our own fun growing up and I think that's part of the reason we decided to start a band. We would hang out with our friends, jam in our basement, throw shows, skateboard downtown, or go exploring through hills or the riverbottom. I wouldn't trade growing up here for anything. Here's a music video from our first EP, which was all filmed in Riverside:
http://www.youtube.com/watch?v=_sn9nuGJb_I
5. The Buzzcocks: We discovered The Buzzcocks around the age of 13 or 14 and that's when we decided to start a band. We learned how to play our instruments by covering their songs, so their influence has seeped into our roots. One of our favorite songs we used to cover:
4. Thrift-store shopping: Shopping at thrift stores is one of my (Justine) all-time favorite things to do. There is somewhat of a thrill because you never know what you're going to find! I like going by myself and listening to my iPod while I shop. I can't help but buy everything that I like, even if it's not for me. Over the years I've found some great stuff!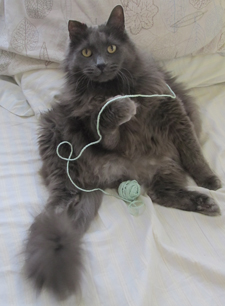 3. The Secret: My parents bought me (Chelsea) this book a few years ago and it's definitely changed the way I see things. Being in our early twenties, it's been a tough decision for us to pursue our band instead of school right now; it's "risky." Following your dreams is risky and it does takes courage, but it's worth it to not have to ask yourself "what if" later on. The Secret has taught me that with positive thinking, true and utter belief, as well as strong desire and motivation, that you can have what you want. You have to just know what you want and know that you can have it.
2. Cats: We can't look at a cat without "ahhwwwwing" out loud. They are on our minds and are the topic of conversation between us so often that it must bore other people to death. They are such a big part of our lives. We have a fat cat named Tubby and he is the sweetest thing; he truly loves people and cuddling! Tubby follows us around the house and always finds his way into one of our beds at night.
1. Our parents: Obviously they have influenced us all throughout our lives, but we have much to thank them for. They have introduced us to so many great things (including a few on this list!) that we continue to love. Our dad is a musician and record collector, and our mom is a vintage collector; they turned their passion into a business about 22 years ago and own a vintage/buy-sell-trade store in Costa Mesa called Dee-Lux. They have always supported our band from the start, and are always encouraging us. Of all the people we've met from playing in a band for years, our dad has always given us the best band advice. Plus, they're just very down-to-earth people and we like hanging out with them. They know what's up. Love you ma & pa!
Summer Twins tour dates
Mar 2 – The Funhouse – Seattle, WA
Mar 3 – Star Theater – Portland, OR
Mar 5 – Red Devil Lounge – San Francisco, CA
Mar 7 – The Echo – Los Angeles, CA
Mar 8 – Bar Pink – San Diego, CA
Mar 9 – Pappy & Harriet's Pioneertown Palace – Pioneertown, CA
Mar 11 – Club Congress – Tucson, AZ
Mar 13 – Rhythm Room – Phoenix, AZ
Mar 18 – The Blue Door – Oklahoma City, OK
Mar 19 – The Record Bar – Kansas City, MO
Mar 20 – The Outland – Springfield, MO
Mar 22 – The New Amsterdam – St Paul, MN
Mar 24 – Shank Hall – Milwaukee, WI
Mar 25 – The Empty Bottle – Chicago, IL
Mar 27 – Ace of Cups – Columbus, OH
Mar 28 – Beachland Ballroom & Tavern – Cleveland, OH
Mar 30 – Stage On Herr – Harrisburg, PA
Mar 31 – Bridge Street Live – Collinsville, CT