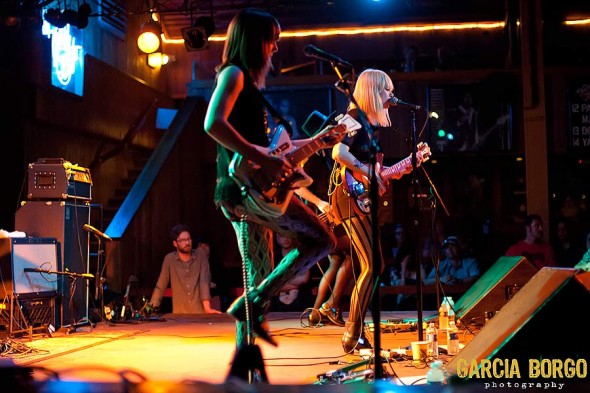 MP3: Dum Dum Girls – Bedroom Eyes
MP3: Dum Dum Girls – Coming Down
MP3: Dum Dum Girls – Bhang Bhang, I'm a Burnout
At the Belly Up last Wednesday, Dum Dum Girls played crowd favorites like "Mine Tonight," "Heartbeat," "Rest of Our Lives," and "Coming Down." Touring to support their new album, Only in Dreams (released in September), the blonde wig-clad Kristin "Dee Dee" Gundred and her band played a 15-song set, followed by a two-song encore.
There were two opening bands: SISU, with Dum Dum Girls drummer Sandra Vu on lead vocals, and Young Prisms, a San Francisco shoegaze outfit. SISU played a guitar-heavy yet cool and ethereal set of songs. Members of Young Prisms seemed to pride themselves on drowning out their vocals with loud guitars, and the three members looked bored on stage. It seemed like they just wanted to wrap up their set as soon as possible; the bass player even took off his bass and dropped it to the ground before their last song was done.
Dum Dum Girls and SISU at the Belly Up – May 16, 2012 – by Sylvia Borgo
Dum Dum Girls on tour
May 23, 2012 – Blue Lamp, Sacramento CA
May 25, 2012 – Biltmore Cabaret (BC), Vancouver Canada
May 26, 2012 – Sasquatch! Festival, Gorge WA Bigfoot stage!
May 27, 2012 – Doug Fir Lounge, Portland OR
June 8, 2012 – Hotel Street, London United Kingdom
July 13, 2012 – Optimus Alive Festival, Lisbon Portugal (Dee Dee solo show)
August 3, 2012 – Osheaga Music Festival, Montreal Canada
August 5, 2012 – Lollapalooza, Chicago IL