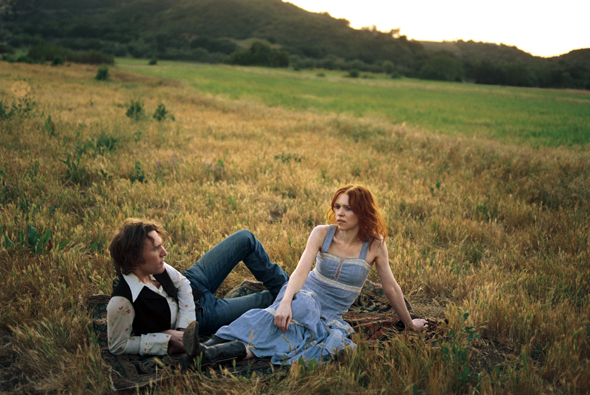 Wednesday, Gillian Welch and David Rawlings brought a Humphreys crowd to its feet — more than a few times.
I went to the Lakeside Rodeo with some European friends a few weeks back. We spent the night laughing at and doing imitations of drunken rednecks. We sarcastically hooted and hollered at all the appropriate times. (Like when the announcer compared a bull they couldn't get out of the ring to how we couldn't get Obama out of office, or when the "hot" rodeo queens came out and showed off their "riding skills.")
As much as I was really enjoying poking fun at some of the more embarrassing parts of my culture, I couldn't help but feel a little defensive. Throughout the night, I would see my European friends turn to each other with excited looks that said, "This is so American!" and they were right, it really was. But would this be the extent of their exposure to my culture? Would they leave thinking we're a simple-minded people whose idea of a good time involves tying a bull's nuts in a knot and taking it for a ride? I had this urge to show them firsthand that we're more than this. That behind this comical facade is a culture that has a compelling and very human story to tell.
The Europeans popped into my head last Wednesday night at Humphreys while I listened to Gillian Welch and Dave Rawlings bless the audience with their beautifully authentic and deeply American music. I had this feeling that my foreign friends had been done such a disservice at the rodeo. I wanted them to get a taste of Americana done right.
Welch and Rawlings walked onto the stage to a packed and very enthusiastic crowd. After they introduced themselves and said they were glad to be in San Diego, they started to play an older Welch tune called "Orphan Girl." It's an odd sensation when you're sitting down in front of two people on a stage who are playing the way Welch and Rawlings do together. It takes a few songs to completely realize that these aren't just two musicians doing what they do; you start to see the way they communicate without saying anything, the way they're always there for each other around every chord change and throughout every solo. It felt like an intimate look into the relationship of people who had been in love for years, but not so much with each other as much as with the music and ideas that they created together. There was a sense of awe and appreciation I felt and saw on the looks of the faces of the people around me. There was an understanding that what we were seeing was something special and something to be treasured.
After they finished the third song an eager concert-goer yelled to the stage, "This is the best concert I've ever been to in my entire life!" After the crowd got done agreeing with him by way of applause, Rawlings suggested that they might as well just stop where they were at if that was the case. After the laughter died down Gillian told a story about the recently deceased Doc Watson and how the next song they were going to play, "Make Me a Pallet on the Floor" was one of his and how much he and his music meant to each of them.
It was during "Pallet" that I started to see firsthand what I could only speculate from the albums before; that Dave Rawlings isn't just a great songwriter and a great guitarist, but he's also a completely virtuosic musician. The way he played during this song reminded me of the footage I've seen of Jimi Hendrix when he seems to be nothing more than a vessel for something much larger than himself. Even the way Rawlings holds his guitar during these intricate and incredibly hard-to-play solos makes you believe that there's something else taking over his being. He starts with the guitar held slightly away from his body so only the bottom of it is touching his hip. Then, as the solo goes on and gets faster, he starts to actually push the guitar away from his body.
There was a point in the evening during "Revelator," one of Welch's darker tunes, where Rawlings seemed to be on the verge of losing complete control of his guitar, he had pushed it so far away from himself that he was actually under it. I decided that it wasn't so much that he was pushing it away, but that it was instead being pulled by whatever force was guiding his hands.
As much as I attended the show to finally see one of my favorite singer-songwriters in concert, it was clear after the first set that Rawlings was going to be the guy people went home talking about. It never felt like he was stealing the spotlight or trying to hog any attention, though. His playing was tasteful and always in support of Welch's beautifully crafted songs. It was a delight to hear the audience applaud after Rawlings finished his solos, and it was even nicer to hear Welch say that she was a "lucky girl" to have Rawlings playing next to her.
Although Welch writes songs about death, poverty, and loss, she's a grateful and downright joyful performer. During "Six White Horses," she even hiked up her skirt and danced. She tapped to the music and her feet were mic'd, so we could hear it all. It was so cool, and the last thing anyone expected, and the audience ate it up.
This lightheartedness was an affirmation of what I believe to be a central message in her music: that although hard times can seem to last forever and completely take over your mind, there are still moments of joy to be found.
And that's what the evening was all about to me: song after song touched upon the darker themes in life, and as soon as it got to be too sad, Rawlings would amaze with a solo, or Gillian would make some silly joke or start dancing. It seemed such an American way of coping.
During their second encore — and about fourth standing ovation of the evening — Welch and Rawlings played "Fly Away." As I sat and listened to one of the most astounding performances of my life, the sort of performance that only comes from the unique culmination of music storytelling and old-time spirituality, I couldn't help but think of my European friends. Screw the rodeo. This was America.