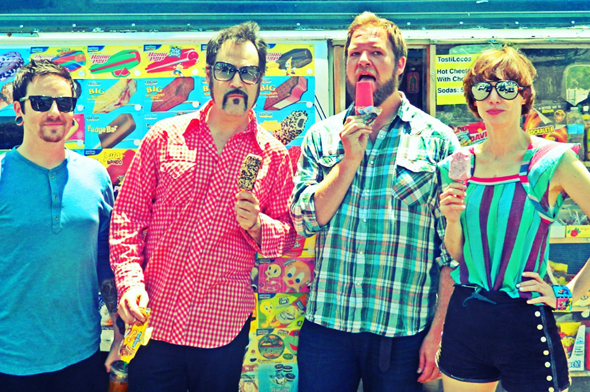 MP3: Maren Parusel – "Tightrope Walker"
San Diego songwriter Maren Parusel is set to release her second album, Tightrope Walker, on June 19. The follow-up to last year's Artificial Gardens was produced by Parusel and her bassist/guitarist, Christopher Hoffee. As on her previous album, Tightrope Walker finds the Tübingen, Germany native unfurling instantly catchy, emotionally vulnerable pop ditties with '80s new-wave overtones.
Whereas the Pall Jenkins-produced Artificial Gardens had a restrained pensiveness to it, her sophomore effort crackles and sparks from the get-go. The reticence and uncertainty that held back Gardens are nowhere to be found here. Instead, Parusel finally allows her full persona — her punk roots, her sense of humor, her German heritage — to shine. You'll find yourself singing along to tracks like "Castle in the Sky," "We Are Made of the Same Stars," and the title track after just one listen (if not sooner).
The album glides to a triumphant finish with the dizzying harmonies of the gorgeous, soul-baring "I'm Ready," and it's hard not to read the song as a statement of purpose. If there were ever a moment for Parusel to break free from local-band obscurity and earn some national acclaim, it's now. The album's name is apt as well — conveying such raw emotion in a pop medium can be a precarious tightrope act, but Parusel pulls it off with ease.
San Diegans can get their mitts on Tightrope Walker on Saturday, June 30, when Parusel plays a CD-release show at the Casbah with The Nervous Wreckords, Hills Like Elephants, and Black Hondo. The Nervous Wreckords will be celebrating the release of their own new album, Let Them All Talk, as well. Tickets for the show can be purchased here.