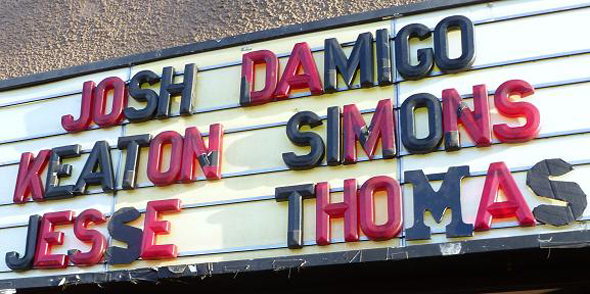 Keaton Simons came out Saturday night to play Josh Damigo's CD release show at Lestat's in Normal Heights with Jesse Thomas.
Jesse Thomas started her set with "Sidewalk Ends." She sounds like the vocal love child of Juliana Hatfield and Dolly Parton. "Missed Connection" was next, followed by "You I Want" and "Fire." During "Already Mine," she was accompanied onstage by Keaton. Her final song was an "ode to a douche bag" called "Leather Jacket."
Next came the incomparable Keaton Simons, whose shows I've been attending as regularly as possible over the last six years because he's so good and I just can't get enough. Simons began with an older tune called "Lift Me Up," followed by "Masterpiece," during which he strayed into a bit of Ray Charles' "I've Got a Woman" and Michael Jackson's "The Way You Make Me Feel."
Next was "Inspiration," followed by a newer song called "Beautiful Pain." After oldie-but-goodie "Unstoppable," Keaton decided to "pick it up a little bit" with "The Medicine." "Currently" and "Mama Song" finished his set, treating the audience to a bit of his fantastic (and difficult, I'm told) throat-singing talents.
As soon as Keaton had finished, Josh Damigo began from the back of the venue, playing acoustic on a six-stringed banjo. The song was "Alright," but really it was fantastic. Josh then announced that he was going to sing the new album in its entirety from start to finish. I admit it: when he said "seventeen songs," I looked at my watch. The live performance of Hope got underway with "Make You Fall." "Loving You is Killing Me" was next, with "Just Let Me Love You" after, and then "Portland," which turned out to be one of my favorites. It's sweet, wistful, sentimental, and sad, and Josh's sincere delivery was perfect.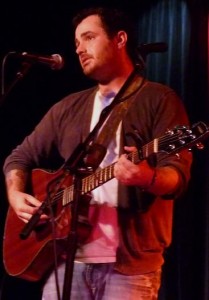 After his gorgeous cover of Jim Croce's "I'll Have to Say 'I Love You' in a Song," came "Slow Goin'," "If I Had a Dollar" and the raw, emotional "Never Gonna Let You Go" (about Josh's brother). "You Happened to Me," "Every Night" and another new favorite, "LA is Not My Home." After "So Far, So Good," Josh proclaimed that there were four songs left.
"Goodbye Lullaby" led into "Can't Be Your Man," and then the adorable "Knock You Out." Finally, the night neared an end with the final song, "Don't Lose Hope." Though I was more than ready to head home, the song's chorus brought tears to my eyes all the same. I didn't expect an encore after so long of a set, but I got one! The final song? "Pocket Change."
Do I think Josh could have picked his ten favorite songs from the new album and left us wanting more? Sure. Do I wish he had? Okay, maybe. But in the end, even if an artist holds me hostage longer than perhaps I would have liked, if his talent makes it worth it, I'll shut up and stay. And that's exactly what I did.