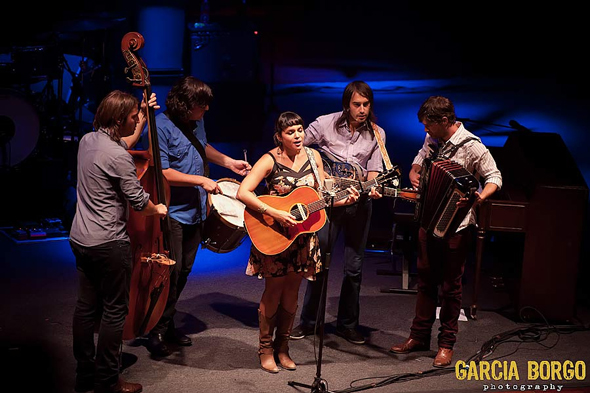 From tweens, to seniors, to Ravi Shankar, a wide range of people came out to see Norah Jones last Wednesday.
Even though Wednesday was technically night two of her tour, the Copley Symphony Hall show still felt somewhat like a first run. Maybe it was her father (Shankar) in the front row — or just because it's in her quiet nature — but Jones seemed removed throughout the evening.
Fortunately, from set opener "Good Morning" to closer "Come Away With Me," the Grammy Award winner's beautiful voice kept the audience enraptured. The talented Ms. Jones also played a variety of instruments throughout the show, from synth, to guitar, to her signature piano. Likewise, she and her band culled the setlist from her entire catalog. After the third song, Jones assured the crowd, "We'll play some new songs and old songs and make you forget all about the Port-A-Potties." (The venue bathrooms are being remodeled.)
Jones is known for covering a lot of other artists, and on Wednesday, she did her rendition of "Long Way Home" by Tom Waits. However, instead of performing it on piano (as she did on 2004's Feels Like Home), Jones picked up a guitar. At the end of the song, she said, "That's a Tom Waits song. I wish I'd written it." Jones also covered "Nearness of You," a jazz standard written by Hoagy Carmichael and performed in the past by greats like Etta James and Nat King Cole. The crowd adored Jones' interpretation of the song, and it proved to be the highlight of the night.
For her encore, Jones' performed "Sunrise," "Creepin' In," and "Come Away With Me." For these songs, the band came onstage with acoustic instruments and surrounded her in a half-circle. It was a resonant and intimate way to end her set.
Folk/Americana songwriter Cory Chisel opened for Norah Jones. On tour to support his latest album, Old Believers, Chisel set the bar high for the headliner. Highlights of his set included "This Is How It Goes," "I've Been Accused," and, with a nod to the "spirit" of Woody Guthrie, "Tell Me Why the Times Won't Change." The crowd ate it up.
For the penultimate song, Chisel's duet partner Adriel Harris and another band member clapped the rhythm while Chisel sang the soulful, bluesy "These Four Walls." The audience loved it, and Chisel more than sold himself as a major up-and-comer in the scene. With loud applause and cheering as Chisel closed his set, the crowd basically begged him to come back and play more.
Photos – Norah Jones and Cory Chisel at Copley Symphony Hall