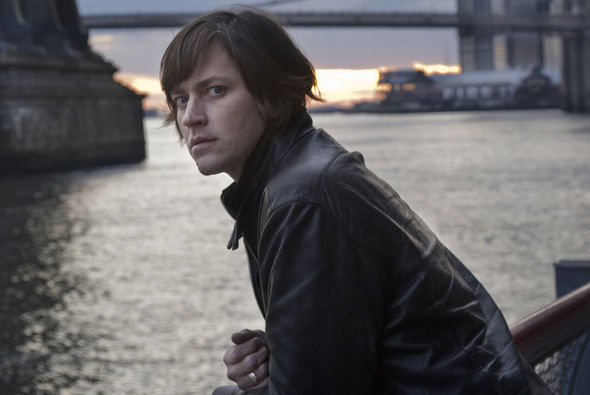 The Old 97's played a solid set last Wednesday night at the Belly Up. The band's current tour celebrates the fifteen year anniversary of their 1997 album Too Far to Care, and at each stop along the way, they're playing the album in its entirety.
I was a little late to the game, as I first heard this album only six years ago, but it connected with me in a big way. The songs on Too Far to Care are rambunctious, heartfelt and catchy, and the album is a strong entry into alt-country for newbies. (If you aren't familiar with the genre, basically just imagine country music, minus the bullshit.)
Old 97's frontman Rhett Miller opened the night's festivities with a short solo set that lasted about twenty minutes. It was nice to see Miller settled and not as exuberant as he would prove to be later with the band. After Miller's set, Those Darlins played about an hour of dreamy, grungy, rockin' country.
Old 97's started their set with Too Far to Care's first track, "Timebomb." It's the most energetic and fastest-paced song on the album, and the perfect way to kick off a set. The band played it enthusiastically, and with the same sort of energy they must have had fifteen years ago when they wrote it. Miller, for his part, was an entertaining front man. All throughout the night, he did Elvis-like moves and looked at the girls in the crowd like a randy 16-year-old. It was funny, but also a little excessive.
The band blazed through the entire album at a really quick speed. It had been about a year since I heard it, and I was reminded of just how much I liked it. Songs like "Big Brown Eyes" and "Salome" were standouts of the night.
After Old 97's finished playing the last track on the album, they immediately started to play more songs from their vast catalog. My interest waned as the set drew on; I loved Too Far to Care, but the rest of their music never resonated with me the same way. But the people around me seemed to really enjoy the show.
All in all, it was a solid show from a solid band. I went home that night with the songs from that album stuck in my head and determined to find it, dust it off and give it some more spins.