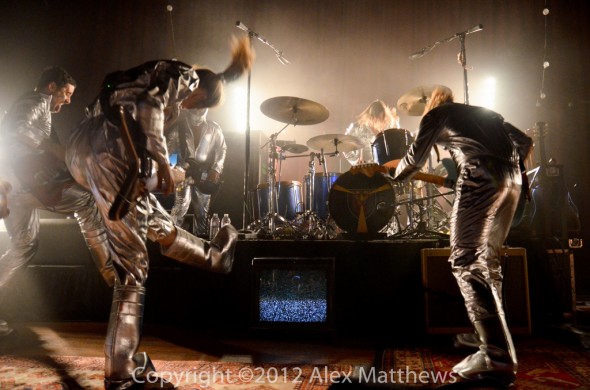 Future Halloweens have a lot to live up to after Grace Potter and the Nocturnals' October 31 show at the House of Blues.
Because of rumors that Grace Potter and her band would celebrate the evening in costume, there was a certain expectation that the audience would dress up too. I stood next to Slash and a go-go dancer, and for her part, Grace Potter took the idea of Halloween to an extraterrestrial level. Not only did Potter and her band wear silver astronaut jumpsuits, the entire set was tailored to a space-themed night. It was a unique chance to catch an already bucket-list performer, but also to see Potter and her team completely let loose.
Grace Potter has been compared to Jefferson Airplane's Grace Slick countless times, and well, the rumors are true. Potter's voice is so intangibly, effortlessly intense that it could stop a zombie apocalypse. The powerhouse singer and her band opened the night with the "Twilight Zone" theme song, and then kicked into her recent album's title track, "The Lion, The Beast, The Beat" (complemented nicely by a front row of Where the Wild Things Are-esque diehard fans).
Along with original material — mostly taken from The Lion, The Beast, The Beat — Potter performed covers like "Space Oddity" (David Bowie), "Black Hole Sun" (Soundgarden), and yes, "White Rabbit" by Jefferson Airplane. It was interesting to see Potter put her own spin on these classics, an added bonus to the show that never overshadowed her own work. Along with her voice and song choice ingenuity, Potter played a Flying V guitar like it was an extension of her body.
I am sure that for ninety minutes, not one audience member — or "super freaks" as Grace Potter affectionately called her fans — thought twice about their decisions to spend this night of mischief at the House of Blues. Potter's stage performance was the only imaginable present-day option of how to visit the dark side of the moon.
Ending the night emotionally, Potter brought back her opening act, RayLand Baxter, to aid her in performing Elton John's "Rocket Man." As they returned to the stage, the "Star Wars" theme played over the house speakers, and it was clear that not only are we all made of stars from galaxies, far, far away, but we're also closer to home than we ever believed possible.
Photos – Grace Potter and the Nocturnals at House of Blues San Diego