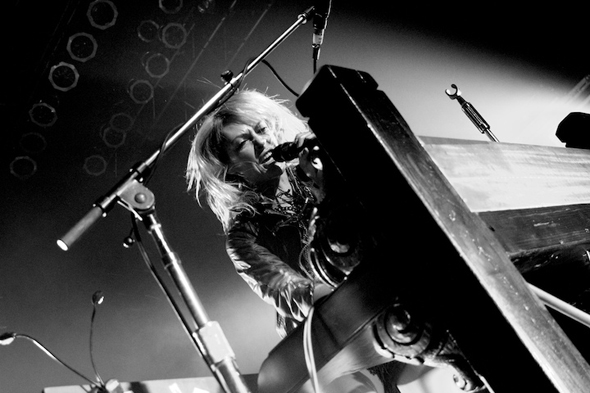 Recent decades' technological advances have produced plenty of bands with strong recorded outputs but weak live shows. The scarcity of wheat across such endless fields of chaff can be frustrating, but it does make the rare display of true live talent all the more enjoyable. Metric's dynamic, sold-out performance at House of Blues on Saturday was just such an exception, striking a brilliant balance between seasoned experience and youthful enthusiasm and solidifying the band's status as honest-to-God rock stars.
The last time we saw Metric in San Diego, they were blowing away Yeah Yeah Yeahs and The Black Keys at Independence Jam. That's no easy feat, and as good as they were back then, time has only sharpened the band's prowess. Emily Haines pulled double duty as singer and all-around cheerleader, pogoing tirelessly around the stage throughout the set and waving her arms at the crowd. (All that bouncing around clearly has its health benefits — at the risk of sounding creepy, it must be noted that the 38-year-old frontwoman still sports the legs of someone half her age.)
Bounding through the swirling lights and five-alarm smoke, Haines may have been the star of the show, but there are no weak links in Metric. Guitarist James Shaw, drummer Joules Scott-Key, and bassist Josh Winstead worked together with a clocklike precision that never sacrificed a single watt of energy. Songs like the rolling "Youth Without Youth," the Scott Pilgrim track "Black Sheep," and an expanded, crowd-pleasing version of the classic "Dead Disco" all boasted expert arrangements that milked the band's instruments — Haines' trusty synthesizers included — for all they were worth.
The four-piece wasted little time between songs, and Haines didn't engage in banter with the crowd until the encore. Even then, she opted only for a brief (but effective) "savor the moment" speech before launching into a lovely, acoustic version of "Gimme Sympathy" that culminated in a venue-wide sing-along. The stripped-down song was an unexpected change of pace from the rest of the set's high-octane pop, but it served to end the night on a more introspective note.
Of course, the frequently political rockers have always been a band with something on their mind. Brains are to be expected from a Metric show — it was their musical brawn that truly stunned. In the past few years, they've evolved from a good live band to a great one, and the House of Blues set was as visceral and thrilling as they come. It's a wonderful transformation to witness, and the future looks even brighter for the group. But for now, Metric have proven that they have what it takes to be rock stars — with all the skill and charisma that the sacred term implies.
Photos – Metric at House of Blues