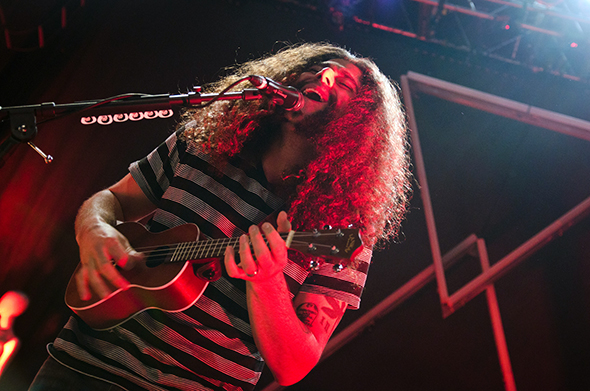 When Claudio Sanchez, lead singer and guitar player for Coheed and Cambria, came to the stage at House of Blues on February 25th carrying a ukulele, I was a little worried.
After all, the band is known for their metal, progressive rock, and punk aesthetic, and for mixing these genres to form a unique heavy sound. However, as the group led into their set with the song "Pretelethal," the lead track from their newest album The Afterman: Descension, I realized that the crowd was being transported — led musically into the right state of mind to appreciate the sonic journey that was about to unfold.
As Sanchez strummed away at a simple haunting melody, the rest of the band kicked in and the energy level was palpable. The band then led into Afterman's second track, "Key Entity Extraction V: Sentry the Defiant" followed by the popular 2003 single "A Favor House Atlantic," which caused a huge surge in the audience as crowd surfers floated overhead.
Coheed's fans are some of the most devoted I have ever witnessed, and at one point Sanchez was able to lead the entire sold out crowd simply by waving his outstretched fingers. The rhythm section, featuring current bassist Zach Cooper and drummer Josh Eppard, were locked in tight, and guitarist Travis Steever blended very naturally with Sanchez's melodic playing style. The band put on an incredibly solid show and played over two hours' worth of songs from throughout their career. The band ended with their hit "Welcome Home," and that's exactly how it felt to everyone there.
Photos – Coheed and Cambria at House of Blues