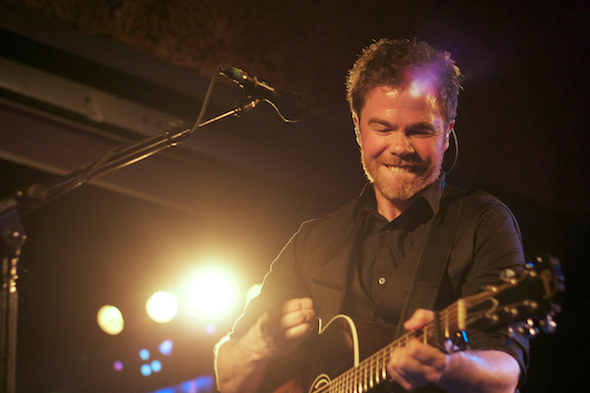 Josh Ritter brought a whole lot of joy to Solana Beach last Monday night.
Ritter walked out alone to a sold-out crowd at the Belly Up. He smiled, picked up his guitar, and launched into the expansive track "Southern Pacific" from his 2010 album, So Runs the World Away. The rest of the band started to silently fill in behind him. As he hit the bridge, the drummer began to play and by the time he was at the chorus the bass and the piano had joined as well. It made for a great opener to a completely entertaining and oh-so-happy set from Ritter and his merry band of hipsters.
Speaking of great openers, Lake Street Dive kicked off the evening with a fantastically infectious set of poppy soul music. It was the East Coast band's fist time on the West Coast and it was clear that they couldn't be happier opening for Ritter and Co.
Happiness was a palpable feeling running throughout the night. It was obvious that Ritter enjoys the hell out of playing music, and not just the sort of joy that you sometimes see with performers on stage, but the kind that you almost never see from anyone ever. Ritter performed with an unabashed ecstasy that was almost uncomfortable at times — he'd be so lost in his joy that it seemed like he forgot anyone else was around — but more than anything it was inspiring. He served as a reminder to us all that happiness can be felt to such an extent.
Ritter's joy quickly spread throughout the audience, and looking around the crowd was a great experience. At any given time, the attendees at the Belly Up were so completely enraptured by Ritter's charisma that they danced and sang along with the biggest smiles on their faces. For a while, the usual facade of looking cool dissipated and was refreshingly replaced by a sense of community and excitement. Ritter's happiness brought everyone together for one of those special concerts that recalled the way people might feel while singing together in church.
Even though the majority of Ritter's set was from his brand-new release, The Beast in its Tracks — which some fans might not have had the time to get familiar with just yet — the strength of those songs kept the uninitiated enthralled. Josh is a storyteller and a romantic, and his songs are infused with a self-aware naivete that romanticizes young love and adventure. It's the sort of music that makes you yearn for those younger days but also makes you appreciate the love you have now.
Ritter and the band ended the night with Lake Street Dive coming on stage to help them with "Right Moves." A Fleetwood Mac-inspired '70s pop song, "Right Moves" made for a perfect end to the evening. As all eight or so musicians on stage harmonized and played the hell out of the catchy track, the too-cool-for-school vibe of 2013 faded away and was replaced with something a lot more unifying — something that transcended ironic mustaches, fedoras, and cardigans. It was the vibe of another time and the promise that this vibe might be coming back again. And maybe, if you had the inclination and means, you could follow that vibe as Ritter and crew take their beautiful music across the country.
It was a fantastic evening of music, happiness, and soul.
Photos – Josh Ritter and the Royal City Band at the Belly Up by Chris Maroulakos