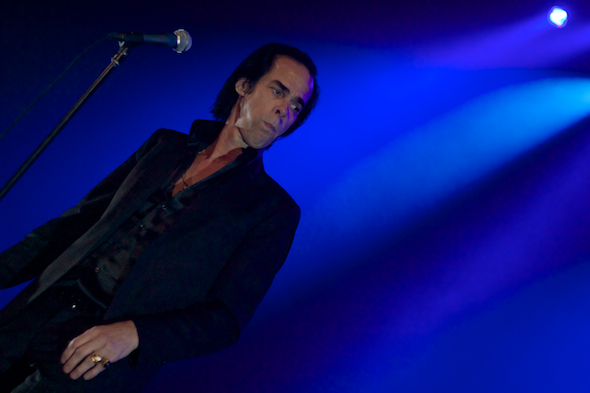 The man himself, Nick Cave, descended on San Diego for a sold-out show at Balboa Theatre on Tuesday. Aided by his trusty Bad Seeds — one of the best damn backing bands in the business — Cave kicked off his set with "We No Who U R," from the recently released Push the Sky Away.
Nick Cave and the Bad Seeds sounded terrific, but it's no surprise that they're in top fighting form. The San Diego stop was sandwiched between Coachella's back-to-back weekends, where Cave is pulling double duty with the Bad Seeds and his potty-mouthed side project Grinderman. Of course, 30 years of experience as one of music's absolute greatest acts doesn't hurt either.
Once the set began, fans wasted no time abandoning their expensive seats and rushing to the stage — and that's exactly where Cave wanted them. Standing tall and thin and of an enviable height, Cave worked the crowd like a mad preacher, grasping attendees' hands and touching them atop their heads as if anointing them.
The set was filled with tracks from the melancholy Push the Sky Away, but those hoping for a resigned, stately performance from the latter-day Cave were in for a rude awakening. The singer summoned the fire and brimstone on classic tracks like "Red Right Hand" and "From Her to Eternity," the latter of which almost left a crater where Balboa Theatre should be.
Photos – Nick Cave and the Bad Seeds at Balboa Theatre