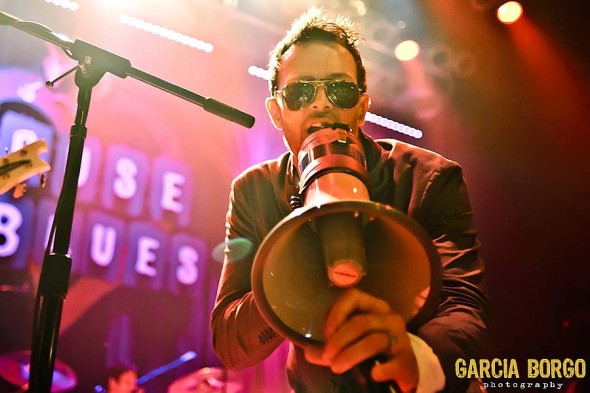 As expected, Scott Weiland was very, very, very drunk and/or high for his San Diego show last week. Despite (because of?) this, the former Stone Temple Pilot proved to be an energetic and fun stage presence, even posing for the cameras on several occasions.
Actually executing his songs, though, was another story. Weiland's voice sounded very good at times, such as on STP's "Wicked Garden" and David Bowie's "Jean Genie," but at other times he sounded like a distressed old woman screeching. Also, throughout the night, almost nothing he said made sense — and he talked to the crowd a lot. After playing "Mountain Song," he said, "Conditions needed to be right for making a record and for electing a president, a president like Bill Clinton." Indeed.
Out of obvious frustration, the band held back and didn't expend much energy during the performance.
Most of the fans stayed until the very end, but most likely to see if Weiland would fall off the stage. At one point, the singer climbed onto some amps to dance and sing but almost fell on his face on the way back down. He then tripped on some guitar cables and again almost fell.
Eventually, the crowd took to heckling Weiland, and someone even threw a full beer bottle onstage that fizzed and exploded right behind him. The guitarist noticed, but Weiland didn't. By the end of the show, audience members were saying things like, "Where is the refund window?" and "He dances like he has another song in his head, not the song he is singing." (Several surprised people also said they'd last seen him with Velvet Revolver and that he'd been A. Mazing!)
It was hard not to find Scott Weiland likable, though. He wasn't rude to the crowd, even when being heckled, and he never once looked bored. It seemed like he wanted to have fun and perform well, but he just didn't.
Nashville's The Rouge opened. As I was getting ready to shoot their performance, two guys in the front row said, "Why are you shooting them? Who are they? Don't make them feel important!" So I replied, "You never know, they could be great and charismatic." Turns out, they were.
When the band hit the stage, lead singer Joshua Vaught told the crowd, "As they say, 'The early bird gets the worm.' You are the early birds and this is it, this is what you are getting. We are the worm."
Vaught sang in a high register, and his band put on a relatively mellow performance, despite opening for Scott Weiland. By the end of the set, The Rouge's merch table was pretty packed, selling loads of t-shirts and CDs as the band signed autographs.
Photos – Scott Weiland and The Rouge at House of Blues