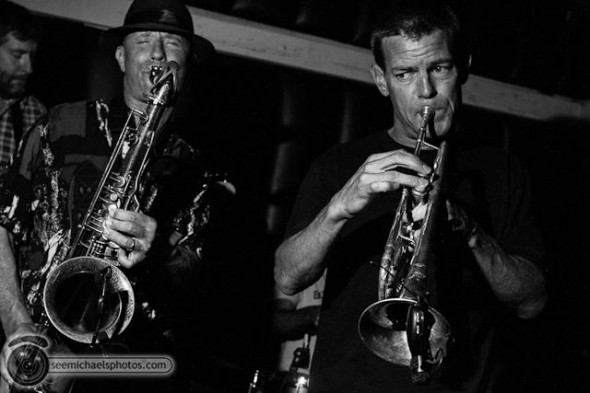 Rock-influenced jazz outfit Montalban Quintet played to an intrigued crowd at the Casbah on Saturday, and the band members' boisterous skills — combined with talented openers — made the show enjoyable for all.
Alt-rockers Never Come Down played their pseudo-inaugural show. The band formerly known as Hargo probably drew the largest (or at least the loudest) crowd of the night, despite opening the show shortly after the sun went down. The show clearly meant a lot to both the rocky quartet and the crowd gathered on their behalf.
Never Come Down played powerfully and even elicited an "encore" chant from its devotees. They announced they'd be heading up to L.A. the next day to record their debut album.
The next band, Takahashi, reminded me of why I enjoy going to shows. Clad in unifying, white wardrobes, the trio played high-gain rock that made my ears churn in painful bodaciousness.
Takahashi was the perfect blend of casual musical prowess and laid-back indifference to the traditional definitions of success. Although the three members of the band were technically skilled, they seemed interested only in putting on a good show, even inviting the weirdest dancer in the audience to hop up on stage with them while they shredded for the unduly calm audience. While they won't be topping the charts anytime soon, they were a ton of fun to see.
Montalban Quintet were perhaps as close to an orchestral performance as the Casbah has put on in recent memory (and DeVotchKa played there last year, so yeah.) The ensemble featured a drummer, a guitarist, a keyboard player, a percussionist/vocalist, and the two lead members played brass instruments. They're often described as a project started by Pinback drummer Chris Prescott, but the band's dynamic blends a variety of influences and draws from the diverse talents of each member. In other words, they sound absolutely nothing like Pinback.
If you listen to Montalban Quintet's self-titled debut, there's a strong emphasis on composition and orchestration. But at their Casbah show, their music was split very distinctly into two categories: classical and jazz. Their classical work felt uncomfortably out of place; the instrumentation was carefully orchestrated, but failed to elicit much of an emotional response from the crowd. However, when their work was jazz-driven — often led by the two percussive members — the whole band worked up an energy that revealed why they play music together.
While they haven't yet proven themselves as songwriters, Motalban Quartet certainly proved themselves as musicians. Their classical endeavors — while secondary compared to their grooving jazz swings — only serve to reiterate that they're making the music they want to make, not what others want to hear.