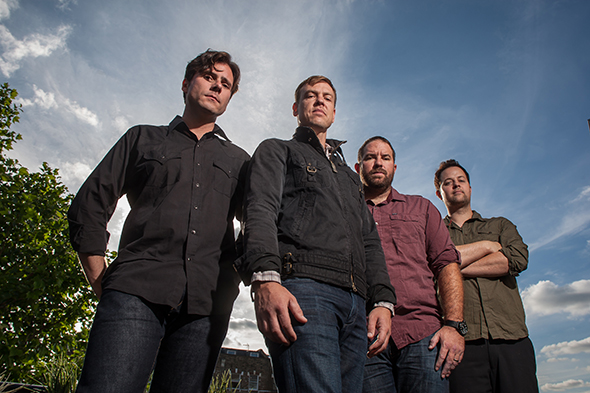 Pioneering emo-rockers Jimmy Eat World took to the Mann Center's Skyline Stage on Friday with twice the energy of a band half their age. Now in their late thirties, having just released their eighth album, Damage, (the group's best since 2004's Futures), and playing just their second date of a two-month tour that will cover the U.S. and Europe, the Arizona quartet certainly has nothing left to prove. You'd never know it. Jimmy Eat World still performs like a band setting out to conquer the world (or eat it).
It's a challenge putting into words just how much Jimmy Eat World's 1999 masterpiece, Clarity, changed my life on a musical front. Considered a failure by the band's then-label, Capitol Records, Clarity was anything but. To give it context: this was a record I played nearly every day for about 2 years, just trying to capture every lyric, every drum beat, every pristine note. It's the album that basically taught me how to play guitar. I worshiped it. That's how important Jimmy Eat World was to my formative years. Clarity showed what great contemporary emo acts like Christie Front Drive and The Promise Ring could be doing with more time (and a major label budget) to explore their ideas in the studio. It was a lesson in how to craft a perfect album. And if other people didn't "get" how brilliant Jimmy Eat World was, well, that was just fine with me. Following Clarity's release, the band was summarily dropped from Capitol.
Then came Bleed American, and more specifically, the band's biggest hit: "The Middle." Things were different. Determined to flex their muscles and rise above that dirty "emo" buzzword, Jimmy Eat World made Bleed American on their own terms — and their own dime — and proved beyond any shadow of a doubt that Capitol Records, and most of the scene, had been wrong. It's been twelve years since "The Middle," and Jimmy Eat World is still going strong.
The band launched into Friday night's set with Damage's lead single, "I Will Steal You Back," which encapsulates the new record as a whole. Frontman Jim Adkins describes Damage as "an adult breakup record." Its ten tracks are more concise, stripped-down, and rocking than anything the band has done since Bleed American. The punch-to-the-gut lyrics are belied by the band's pop sensibilities. Almost every track is upbeat. It's as happy as a sad album can be.
On stage, Adkins has always been the centerpiece of Jimmy Eat World. Not just for his lyrics and guitar playing, but for his energy and stage antics. Thrashing and kicking every time he steps away from the mic, he's something to watch. Flanked by guitarist/vocalist Tom Linton (who really needs to sing more on the records), bassist Rick Burch, and drummer Zach Lind, Jimmy Eat World is as awesome a stage presence today as they were fifteen years ago when they were starting out. The band is joined for this tour by keyboardist/backing vocalist Robin Vining (also of Arizona's Nintendo-core powerhouse, Minibosses), and his presence was definitely felt on the shimmering crescendos of tracks like "Hear You Me" and "Kill."
A notable addition to the set was a cover of Taylor Swift's "We Are Never Ever Getting Back Together," which was either ballsy, brilliant, or boring, depending on who you ask. But Adkins' stunning solo rendition of "For Me This Is Heaven," one of Clarity's signature tracks, and a blistering version of "Goodbye Sky Harbor," made the merits of the cover song irrelevant.
Jimmy Eat World has yet to duplicate the success of "The Middle," and they seem fine with that. They continue to make great records, and Friday's show was their biggest in Philly yet, so they are still growing. But what's most apparent and inspiring is how much fun they're still having, and giving out. Do yourself a favor and give Damage a spin; see if it a song like "No, Never" doesn't get stuck in your head. Then catch them on this tour; see if you don't have fun. (And yes, they did close with "The Middle.")