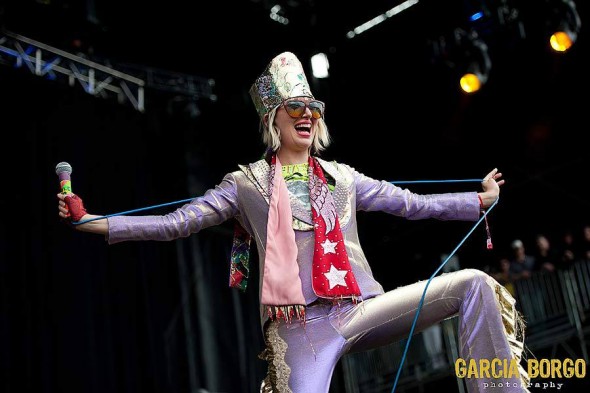 Owl and Bear's Sylvia Borgo attended the recent Outside Lands Music and Arts Festival and reviewed and shot photos of several bands. Check out Sylvia's report below!
August 10, 2013
Milo Greene: One of the Los Angeles band's four lead singers kicked off the set by saying, "It is good to be home. I'm from California." After the second song, "Don't You Give Up on Me," Greene's female singer, Marlana Sheetz, pointed out to the audience and said, "You girls with the crazy pants, I fucking love you. Keep up the dancing."
James McCartney: James McCartney played songs "Mexico" and "Life is a Pill," and also covered Neil Young's "Old Man." McCartney doesn't sound much like his father, and you can tell that he has different influences. It's nice to know that he is making his own music drawn from his own inspirations.
Yeah Yeah Yeahs: Lead singer Karen O told the crowd, "We have patiently, so patiently waited to get back to San Francisco. The New York band kicked off their set with "Sacrilege," and went on to play crowd favorites like "Mosquito," "Gold Lion," and "Zero." Before introducing "Maps," Karen O said, "I want to dedicate this next song to all the lovers out there in Golden Gate Park." She got the crowd excited by spitting water up into the air, putting the mic down her shirt and her pants, and then by just giving her genuine, bright smile to the crowd. She also sent the mic out into the audience during one song so that people could sing a little bit of the melody. There was a lot of crowd surfing during set — the first crowd surfing of the festival. For their final song, "Date With The Night," a giant inflatable eyeball went out into the audience. It must've been at least ten feet in diameter.
Nine Inch Nails: During Nine Inch Nails' set, Trent Reznor said, "We are honored to be with you tonight. After all these years, thank you for sticking with us." Other than that, Reznor didn't really talk during the performance. Crowd favorites of Nine Inch Nails' set included "Closer," "Head like a Hole," and the encore, "Hurt." The crowd was a little bit thinner than on Friday and Sunday at the same time; a good 10-20,000 people were over seeing Pretty Lights Phonenix.
August 11, 2013
The Wild Feathers: Sunday started at noon with The Wild Feathers, a southern rock band from Nashville. At the beginning of The Wild Feathers' set, the singer welcomed the crowd by asking, "Are you all having a good time? I think we're still hung over from last night." The band generated lots of excitement, and launched right into their set with a high energy song. It seems appropriate that a band like this would have a more prominent time slot for festivals, but maybe they were scheduled early because they can draw a crowd. The Wild Feathers band closed their set with "Ceiling." Catch them when they play San Diego in September.
Little Green Cars: Ireland's Little Green Cars kicked off their set with two acoustic numbers, all five band members singing in harmony. The only member with an instrument during these songs was lead singer Stevie Appleby on guitar. It wasn't until the third song, "Harper Lee," that the band picked up their instruments. Another crowd favorite was "My Love Took Me Down to the River to Silence Me," sung primarily by Faye O'Rourke. An audience member could be seen running towards the stage from about 100 yards away yelling "I love this song!" She'd left her three friends in the dust trying keep up with her.
Foals: Oxford, England's Foals played the Land's End main stage. Crowd favorites included "Olympic Airways" and "Two Steps, Twice." During the set, one audience member shouted, "Yannis you're my fucking hero!" Before the second-to-last song, "Inhaler," the lead singer said, "It has been a great pleasure to be here. You guys have been fucking awesome. Let's see what you got."
Vampire Weekend: The New York band used a giant mirror with a floral pattern as their backdrop, and incorporated tons of inflatable toys into their set, including dinosaurs, pickles, donuts, and three Care Bears, as well as a host of random objects.
Some of the signs in the audience read "Ezzy for Prezzy," "Marry me, C.T.," "I give a fuck about an oxford comma," and a simple one of just a comma. Crowd favorites included "Cape Cod" and "A-Punk," which inspired lots of dancing and crowd surfing. Lead singer and guitarist Ezra Koenig introduced "Hannah Hunt" by saying, "Most people think of Vampire Weekend as a band from the East Coast. We have a song about Cape Cod, that's understandable. But we have several songs named after people from the Bay Area, like this one, which we've never played in San Francisco."
Koenig introduced "One (Blake's Got a New Face)" by saying, "This one is named after a guy from Palo Alto. This one goes out to all the peninsula cats." The band ended their set with "Walcott," and Ezra introduced the song by saying, "We have one more song for you tonight, this is our goodbye song. It's about leaving Cape Cod."
Red Hot Chili Peppers: Just before Red Hot Chili Peppers' set, about 150 teenagers — mostly girls leftover from Vampire Weekend — had to be pulled out from the front row.
Red Hot Chili Peppers kicked off their first song with an instrumental complete with crazy dancing and jumping around. Flea said some pretty amazing things throughout the set, including "A long time ago, there was a brave woman whose placenta carried a strong boy and that boy is Chad Smith." About the cold and misty night, he observed, "There is a gentle mist tonight. It is very romantic." He also said, "Be good to your neighbor, you might want to offer to massage their buttocks." Before introducing "Right On Time," Flea said "The last four months we went to university to study with Russian scientists to find the quietest piece of music. It went back to the Paleolithic age and we have found it." Then, they launched into the song. Flea even name-dropped America's favorite 90s MTV cartoon: "I have to change my shirt. It is sopping wet, sopping wet like a sock. I try to be a highbrow person, but always revert back to 'Beavis & Butthead.'" When Flea returned to the stage, he did it by walking for about 25 feet on his hands.
During the song "By the Way," there was a lot of crowd surfing, and people were thrown up in the air like puppets. Crowd favorites included "Californication" and "Under the Bridge." The encore included Chad and Josh jamming, followed by "Around the World," and a beautiful rendition of "I Could Have Lied," and the closer, "Give It Away."