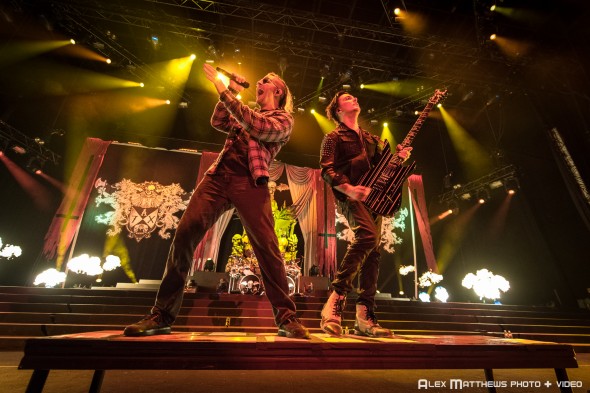 San Diego's biggest summer rock event descended on Sleep Train Amphitheater in Chula Vista on the weekend of September 14 and 15.
The so-called Operation Kick Ass Festival, sponsored by local radio station Rock 105.3, brought many headlining hard rock and metal acts to the large outdoor venue. Originally conceived as a one-day festival on Sunday (the Rockstar Uproar Festival), promoters were luckily able to spin it into a two-day event with tons of awesome bands.
Saturday's lineup included a diverse array of up-and-coming metal acts on the side stages as well as more established touring outfits. The first band on the main stage was All That Remains, a Springfield, MA group. Their heavy metal sound was complemented by tons of hair thrashing and virtuosic soloing by lead guitar player Oli Herbert.
Next, Pennsylvania hard rockers Halestorm took the stage to crank out a great guitar-driven, heavy rock sound. Frontwoman Lzzy Hale was a sight to behold thanks to some impressively fierce vocals and drummer Arejay Hale put on a spectacle behind the kit including a drum solo that was not to be missed.
European rockers Volbeat also played the main stage, their sound rounded out by the recent addition of former Anthrax guitarist Rob Caggiano. They employed mix of hard rock with a little country and blues thrown in for good measure — a cover of Cash's "Ring of Fire" was a set highlight.
Headlining the first day of this massive rock festival was Avenged Sevenfold, whose album Hail to the King is now the highest-selling metal album of 2013. The band literally set the stage on fire with tons of pyrotechnics and a huge skeleton king holding court over the impressive display. Getting to see the band live in San Diego was fantastic — a week earlier they opened for Iron Maiden at Rock in Rio for almost a million fans.
Heavy music was alive and well in San Diego on this awesome weekend in September — here's hoping the event can be an annual tradition.