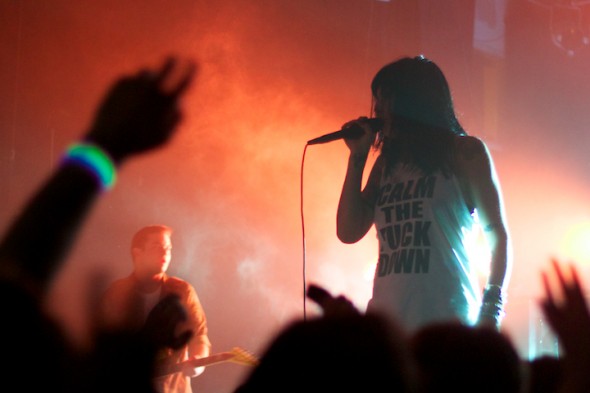 Fans of fist-pumping, ear-splitting, pom-pom-waving rally rock, you are in luck. Sleigh Bells will return to San Diego this Saturday, September 19 for a show at downtown's Block No. 16.
The duo just released its latest album, Bitter Rivals, earlier this month. Three records into Sleigh Bells' career, their innovative sound shows no signs of aging. Building off the mangled distortion of 2010's Treats and the sweeping expansiveness of follow-up Reign of Terror's latter half, Bitter Rivals adds new sounds and even some acoustic guitar to the sonic palette, all while sounding unmistakably Sleigh Bells.
If Saturday's show at the newly renovated Block No. 16 is anything like their 4th & B performance last year, it's going to be one hell of a party. Word to the wise, though: bring earplugs. Also, we can't guarantee that force-of-nature frontwoman Alexis Krauss will take her shirt off like last time, but why risk missing it if she does?
Synthpop band Doldrums will open for Sleigh Bells. Get your tickets here.