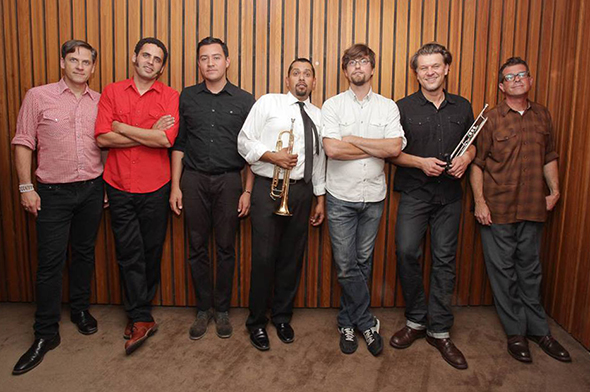 There are a few select words to accurately describe Calexico's style: rich, deep, and resonant. With seven musicians on stage (at least three of them multi-instrumentalists) there was really no question that there would be depth. But as soon as they began to play, I happily felt as if I was being wrapped in a warm blanket of sound.
While clearly a bit road weary (this was the last night of a year-long tour), Calexico launched into "Epic," the opening track off of their most recent work, Algiers (2012), with clarity and purpose.
The best part of Calexico's sound is that they blend so many influences into a seamless mixture of genres. The album itself is classic Calexico — incorporating intoxicating Western riffs, snippets of classic surf guitar, mariachi horns, and warbling organ in one song, moving on to melodic folk guitar and light drum kit work in the next — and all with a brand new bit of polish. (This may come from the fact that they recorded it in New Orleans, the capital of Creole.)
As Calexico made their way through an 90 minute set, I grew to appreciate the adept way that front man Joey Burns leads this group of diversely talented musicians through his band's broad catalog of offerings. My favorite track was, by far, the complex and dramatic "Puerto," which rose and fell with characteristic intensity, leading listeners through thrilling tales and sordid endings. They were on point with every song, and the Belly Up's soundboard was so well calibrated that it essentially functioned as another instrument. During each song, Calexico members were completely tuned into Burns' leadership. It was definitely a fitting way to close out their long year on the road, and a pleasure to hear live.
One of the unexpected treats for the evening came from the opening band, Sally Ford and the Sound Outside. Hailing from Portland, OR, their style is quirky, energetic, and, more aptly, "adorkable". My favorite tracks were "They Told Me" and "Shivers," a slow, rolling love song reminiscent of Mazzy Star that inspired the crowd to do a bit of junior high school style slow dancing.