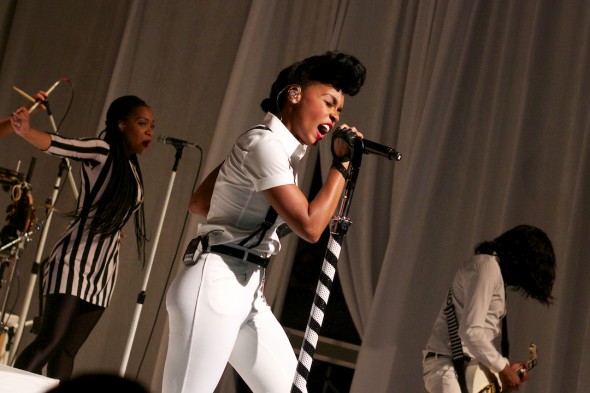 Man, can Janelle Monáe put on a show. The singer could easily coast on the strength of her recorded output, which includes the Best of 2013 album The Electric Lady. But at her sold-out House of Blues show, she gave the San Diego crowd everything she had, pouring gallons of sweat into an incredible, kinetic performance.
Ricocheting from R&B to soul to hip-hop and back again, Monáe somehow also found time for frequent costume changes, spirited dancing, and general cheerleading. She clearly wanted to make sure that every last person in the crowd was having a good time. (Like her Godfather of Soul before her, Monáe may be the hardest working woman in show business.) Her airtight backing band followed her example, grinning and bouncing its way through songs like "Givin' Em What They Love" and "Dance Apocalyptic."
But despite the band's prowess, the crowd's eyes never strayed too far from Monáe. The title of her latest album proved a fitting one — the lady was so electric, it's a wonder she didn't trip the House of Blues' breakers.
Janelle Monáe at House of Blues