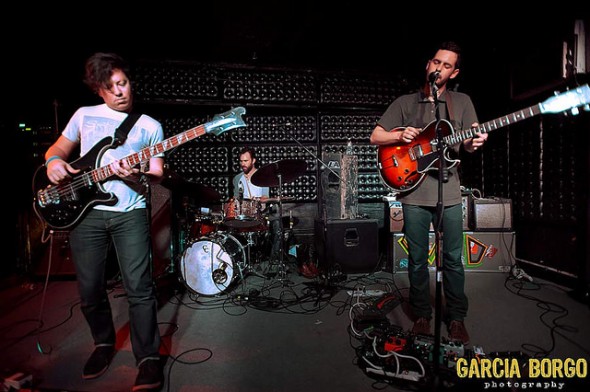 After two sold-out nights at L.A.'s Troubador, White Denim played another sold-out show at the Casbah on February 9. The West Coast dates were a part of their North American tour to promote the recently released Corsicana Lemonade, the band's fifth studio album.
White Denim's sets are never the same. In fact, their songs are never the same. They come up with the set lists on the fly, never repeating themselves, and each song starts and flows like a good conversation. If the band is having fun, who knows when it's gonna end.
In San Diego, the night started off a little sketchy, when a fan who was, let's say "overexcited," was kicked out of the venue by lead singer/guitarist James Petralli. The incident clearly had an impact on Petralli's performance, who cranked up his Silvertone amp. His solos were a lot longer than usual. The other guys occasionally looked at him to move on to the next part of the song, but "Wait, I'm not done yet" was his response!
The set included a lot of older songs from Fits, Last Day of Summer, and 2011's phenomenal D, but it was mainly focused on the new album (why is "Come Back" not playing on the radio every 10 minutes?). Songs like "I Start To Run," "At The Farm," "Tony Fatti," and "Drugs" were some of the crowd's favorites, but the incredible closer "Street Joy" was the highlight of the night.
Corsicana Lemonade is the first album not produced by the band. They hired Wilco's Jeff Tweedy to somehow bring the live energy of their shows to the new album — something that some may say is missing from their records. I am not sure they accomplished exactly that, but there's nothing wrong with being one of the hottest live acts in America right now.
Clear Plastic Masks supported White Denim at the show.
White Denim at the Casbah

Clear Plastic Masks at the Casbah