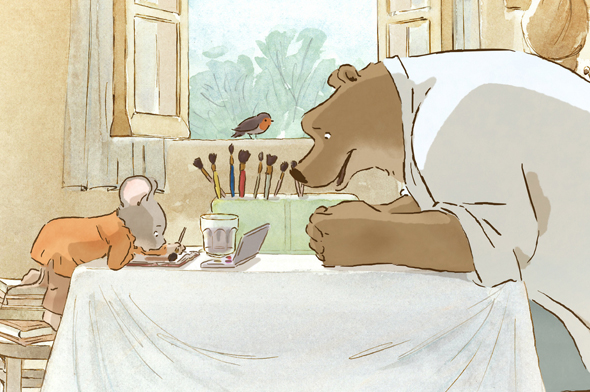 It is difficult to ignore the 2014 Oscars when discussing Ernest and Celestine because it was deservedly nominated in the Animated Feature Film category. That a trite film like Frozen could take home the award when the artful and thoroughly charming Ernest and Celestine or the thoughtful and sophisticated The Wind Rises did not is a frustrating window to Academy insincerity. Enough about that nonsense, though, and on to more words for a film that truly deserves them.
Watching Ernest and Celestine is like reliving the experience of discovering your favorite children's book. That's appropriate because the movie is based on a series of Belgian children's books by Gabrielle Vincent. The world created by Vincent in the books and on screen by directors Stéphane Aubier, Vincent Patar, and Benjamin Renner is one of pure imagination. Society is divided into two sections: bears in their towns and mice who live beneath those towns. The bears are repulsed by the mice, and the mice live in mortal fear of the bears.
Celestine is a mouse who lives in an orphanage and dreams only of becoming an artist, despite her society's pragmatic insistence that she become a dental assistant. After getting trapped in a garbage can on the streets of the bear city, she is discovered by a starving bear named Ernest, whom she convinces to refrain from eating her. The experience begins a bond that results in both characters becoming fugitives from their respective homes. The story is a delightful look at their relationship, the loneliness of not fitting in, and the dangers of prejudgment. What truly solidifies the film as work of art, though, is how it is rendered.
The first few frames show a pencil making drawings even as the hand holding the pencil gradually comes into existence. It is an exquisitely beautiful way to introduce the artist Celestine, and it lures the audience into the hand-crafted style of the animation. The color palate is comprised of watercolor pastels that are more muted than what some people may be used to from a children's animated film, but they are artfully applied to create an intoxicating environment for the characters. The elegant animation style is deceptive in its simplicity — its true genius lies in its ability to create characters that are so full of life, so engaging, and so relatable.
What is perhaps Ernest and Celestine's most appealing quality is that it ignites the levels of imagination found in children without insulting their intelligence. It is sincere and sweet without being teeth-rottingly saccharine, and it says something about individuality and prejudice without feeling overtly moralistic or didactic. The lines that separate these elements are extremely fine, and Ernest and Celestine manages to strike a balance that should enchant children and adults alike. While most animated films use cheap innuendo and thinly veiled dirty jokes to give adults something to cling to, this one instead delivers story and art that can be equally appreciated by parents and their children. It is a rare treat.
Ernest and Celestine opens in San Diego on Friday, March 28 at Landmark La Jolla Village Cinemas in its original French language with English subtitles.