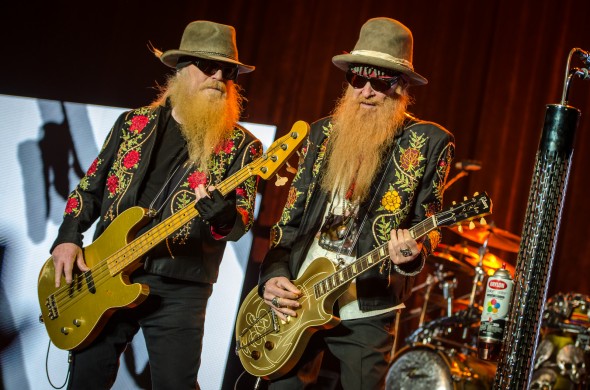 That little old band from Texas, ZZ Top, played a hard-rocking concert at Pechanga Casino on Sunday.
Anyone familiar with classic rock or blues would instantly recognize this iconic trio of legendary musicians. You know the lineup: the two with the big beards (Billy Gibbons on guitar, and Dusty Hill on bass) and then drummer Frank Beard, who ironically has the least facial hair in the group. As Mr. Gibbons said shortly into their set, "We've been at this for 40 years now: same three guys, same three chords."
Clearly the formula seems to be working for them. The trio blasted through a set of classic hits and some newer tunes from their most recent album, 2012's La Futura, on which this tour is based. Highlights included classic songs like "Gimme All Your Lovin'," "Sharp Dressed Man," and "La Grange."
The set was like watching '80s-era MTV, as the stage was flanked by large LED video screens showing footage from the band's memorable music videos. The 1,200-seat Pechanga Theater was sold out for the night, and all the fans seemed to really enjoy the show.
ZZ Top are one of those live bands that, if you're a rock music lover, you have to see once in your life. The show was a blast and the veteran rockers still put a lot of heart and soul into their performance. Every little detail of the show — like the Krylon Spray Can on the mic stand, the vintage cigarette case holding the mic pack, and the insane pin striping on the guitars — just screamed rock and roll. Be sure to catch ZZ Top live soon, as they have just recently announced a US summer tour with Jeff Beck.