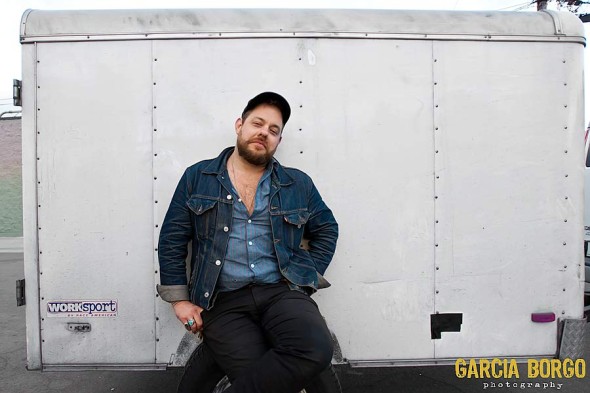 MP3: Interview – Nathaniel Rateliff
[audio:owlandbear-rateliff-interview.mp3]
Nathaniel Rateliff treated the Soda Bar to an intimate set of soulful and moving songs off of his new album, Falling Faster Than You Can Run, and his debut album, In Memory of Loss.

Podcast RSS feed: http://feeds.feedburner.com/owlandbear/podcast
Rateliff's voice is a masterpiece — he cries out, he growls, he whispers — and his face is nearly as expressive. Each wince, scowl, and grimace gives more weight to his enormous voice and the song being played.
During the set, Rateliff reminisced about the last time he played in San Diego: "Last time I was here I almost got into a fight with a guy wearing sandals. I'm not saying anything bad about wearing sandals, but if you are going to get into a fight, don't wear sandals. You can't run in them and your toes will get smashed."
Photos: Nathaniel Rateliff at the Soda Bar