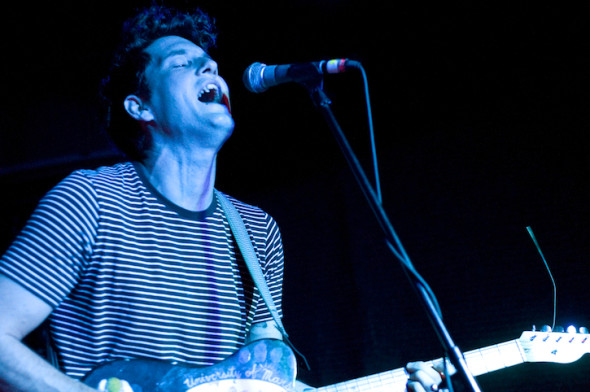 In celebration of their newly released album, Ride the Black Wave, The Donkeys played the hell out of a church in North Park last Friday night. If you're asking yourself how exactly you play the hell out of a church, I'll tell you — you do it with a little help from your friends. And when you've got friends like John Meeks, Extra Classic, and Octa#grape, you could probably play the hell out of just about anything.
John Meeks and his multitalented cohort Matt Resovich (of Roll Film and The Album Leaf) got things started at the Irenic with their unique style of beautifully broken country music. Between Meeks' wavering vocals painting pictures of love lost against a lonely western landscape and Resovich's ethereal instrumental flourishes, the audience was lulled into a serene state. What Meeks and Resovich are doing with American music is really exciting and pure, and seeing them play it live is always a special thing.
The mellow spell Meeks' music cast over the audience was completely annihilated the moment the next band, Octa#grape, started to play. Their set consisted of very heavy (and catchy) fuzz/garage rock with a frontman that was completely all over the place and exuded an insane amount of energy. And they were loud: so loud it was surprising they didn't blow the stained glass windows out. It was so much fun watching these guys take dad rock to a whole new level of awesomeness. If you end up going to one of their shows, make sure to bring some earplugs — these guys don't mess around with the volume.
Extra Classic was the third and final band in the very eclectic lineup of openers. Their sonic nod to old school reggae and funk had half the audience dancing, and it was a nice reprieve for all the ears left ringing from Octa#grape.
As soon as Extra Classic's set ended, The Donkeys' fans came out in full force, enthusiastically making their way to the front of the stage. Nobody seemed to mind how crowded it got; this was a record-release party after all.
On that newly released album, Ride the Black Wave, The Donkeys have managed to expand their sound while keeping the core of it completely intact. It has some nice darker moments that can't be found in their previous work, but the overall sound still exudes a laid-back beach-day vibe. It's the perfect album to kick off summer in San Diego.
And as The Donkeys launched into their first song, summer was in full swing with everyone dancing happily along. Per usual, They played lots of great music that plastered big smiles on everyone's faces. The Donkeys ended the party with a fantastic cover of Van Morrison's "Gloria". It was such a fun time shouting out "G-L-O-R-I-A" with a few hundred other people in the middle of a church.