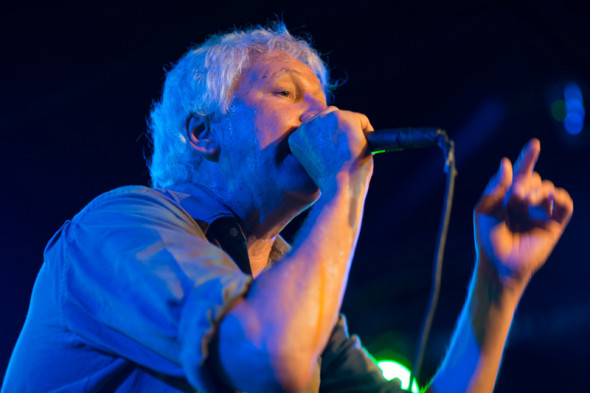 Indie rock legends Guided By Voices played an epic 40+ song set at the Belly Up on Saturday.
Hundreds of longtime fans flocked to Solana Beach to catch the band's "classic lineup," which includes founder Robert Pollard and early members Mitch Mitchell, Greg Demos, and Tobin Sprout (but not drummer Kevin Fennell).
When Guided By Voices took the stage, fans chanted "G-B-V!" as required, and marveled at the sheer volume of booze onstage (including a 20-gallon bucket o' beers). Pollard kicked off the set with a swig of Cuervo Gold, and the fans went nuts.
Pollard and his band made every effort to keep the energy high, but it's always a little surreal to see paunchy older guys do karate kicks, chug beers, and fornicate with the crowd as if they were still sex-crazed teenagers.
It all made perfect sense to the fans, though. Many, who have listened to GBV for decades, had never seen their favorite band before — so catching them at the intimate Belly Up was a milestone.
Nashville's Bobby Bare, Jr. opened, and shocked many in the audience with his skills and stage presence. Those expecting a sub-par opener were very pleasantly surprised, as Bare and his professional band treated each song as if it was their last. When the set ended, there were many murmurs of "They were good, huh?!"
Bare is a funny and smart songwriter, and it showed throughout his set. In addition to charming them with his music, he killed with his jokes, including:
"How many of you are here with someone you love tonight? (Cheers) You're much more likely to get murdered by that person than anyone else you know. It's a statistic."

"All of the proceeds from the sale of my new record will go to "Feed the Children" in Nashville. (Cheers) I can guarantee you that the money will feed my children, and my ex-wife, and my ex-wife's new friend…who likes to work out."
Between the GBV über fans in attendance and Bare's charming charity, a lot of records were purchased that night.
Guided By Voices at the Belly Up

Bobby Bare, Jr.