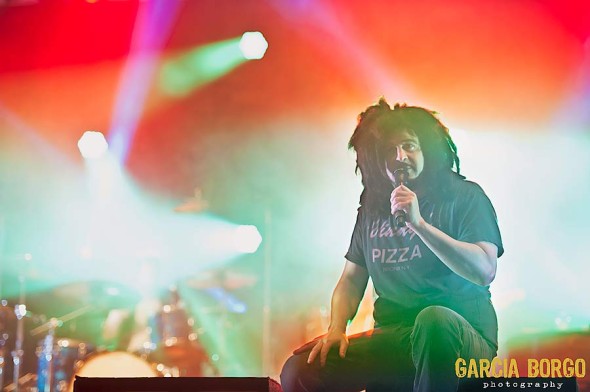 On August 9, just as the supermoon rose in the east, Counting Crows took the stage at the Del Mar fairgrounds.
Lead singer Adam Duritz never gives you the album version of a song; instead, he transforms each song to his own (and the crowd's) liking. He's also a dynamic performer: at one point during "Mrs. Potters Lullaby," Duritz jumped on the monitors and worked the crowd. At another, he sat down at the base of the piano and sang "Sullivan Street."
The band played with effortless perfection, and highlights included '90s hits like "Mr. Jones" and "Round Here" — complete with singalongs — as well as four songs off their upcoming album, Somewhere Under Wonderland (out on September 2). New songs included the classic Crows-style piano ballad "Palisades Park" and "Scarecrow."
Looking up at the exquisite moon, I thought to myself how beautiful and constant it was. Looking up at the stage, I realized that Counting Crows shine just as bright and keep coming back with a sound that is just as inspiring.
Photos: Counting Crows at the Del Mar Fairgrounds