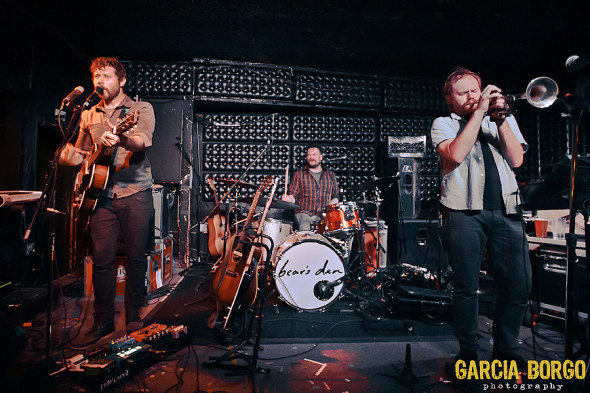 We've barely started 2015, but I'm going to be bold and nominate Dan Mangan + Blacksmith's Club Meds for Album of the Year.
Dan Mangan + Blacksmith is the Vancouver songwriter's new name for his longstanding collaboration with musicians Gordon Grdina, Kenton Loewen, and Johnny Walsh. Their album, Club Meds, is a beautifully crafted recording that feels very intentional, but still loose and improvisational.
Mangan is one of the most recognizable voices in indie rock, and he puts it to use on Club Meds. With every listen, more intricate details and whimsical reverie come to the surface. It is clear that musical exploration and voyages are at the core of this recording.
Each of the musicians also explores his individual contribution; this ensures that each song offers the listener sweet surprises. The first track, "Offred," centers around sparse-yet-contemplative guitar musings and delicate contributions on the keys. Lowen's drumming adds a push-and-pull tension to the song instead of simply setting a steady beat.
Club Meds also shows that you can say a lot with deliberate playing instead of musical pyrotechnics. Trumpet player J.P. Carter's contributions are apparent in "New Skies," where the turmoil in the song is enhanced by battling horns. On "Vessel" and "Forgetery," Lowen uses his jazz drumming chops to fluctuate between light touches and infectious beats. On "Kitsch," Grdina's genius guitar work is mesmerizing.
And Dan Mangan's voice is amazing. In his previous recordings, Mangan sings with equal parts wonder, curiosity, and conviction, but his vocal work on Club Meds is different. On this album, it takes time to fully absorb his lyrics; the music is just so bewitching. Mangan's voice is sometimes transformed with a bit of processing, but it's tasteful: his voice is molded with sonic elements that are much more sophisticated, converting Mangan himself into an instrument. Dan Mangan + Blacksmith are no longer a singer and his band, they are a whole symbiotic organism.
The band's exploration of melody, rhythm, and sound is especially well-executed in the title track, which creates a dreamlike and fantastical soundscape reminiscent of "I Am The Walrus" or "Strawberry Fields." The next track, "Pretty Good Joke," continues this vibe by incorporating seemingly disconnected lyrics "My friends were eaten slowly alive/Somewhere it is Christmas/All the time."
Commercial success sometimes eludes those who push boundaries. Artists like Radiohead or Pink Floyd are two exceptions; maybe Dan Mangan + Blacksmith can be another. They certainly deserve it.