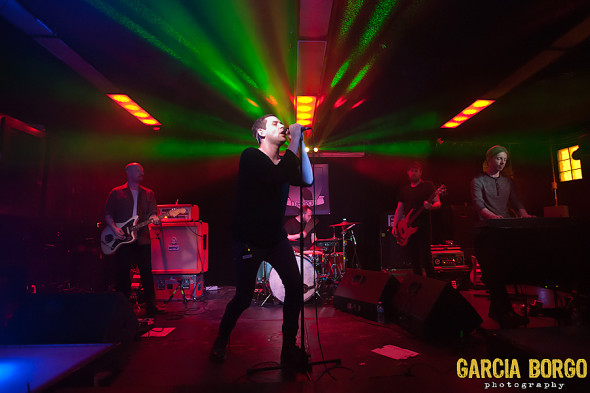 It was the last night of a long tour for The Twilight Sad, but that didn't stop the band from putting on an excellent show.
These hardworking Glaswegians have been on the road since the release of their 2014 album, Nobody Wants to Be Here, and No One Wants to Leave. After their San Diego show, they stopped by South-by-Southwest; before long, they'll start a European tour.
The Twilight Sad hit the stage and launched right into some of their catchy new material, like "There's a Girl in the Corner" and "Last January."
At the show, James Graham's vocals soared above the dark wall of sound that his band created. He has described his music as "folk with layers of noise", and it was easy to hear this as he belted out emotional stories tied to a synth and guitar driven rock.
Graham is a very compelling singer to watch; he seems to sing as if in a trance, and it might be mistaken for histrionics if it wasn't so obviously sincere. Graham draws listeners in and exudes sincerity in everything he does.
Guitarist Andy MacFarlane pumped out the distortion from his large half-stack amp while sipping vodka and providing sonic foundations that were quite impressive. From the other side of the stage, gothic synth riffs set the tone, which was both morose and defiant.
It was a great closing show for a hard working band that is definitely not in their twilight years; we can expect many more good things from them in the future.
Opening for the Twilight Sad was Port St. Willow. The New York band combines a cinematic darkness with falsetto vocals and versatile drumming to create an elevated sound; throughout the set, they moved from jazzy moments to crescendos where I was sure that the drummer would break his kit.
Photos: The Twilight Sad
Port St. Willow