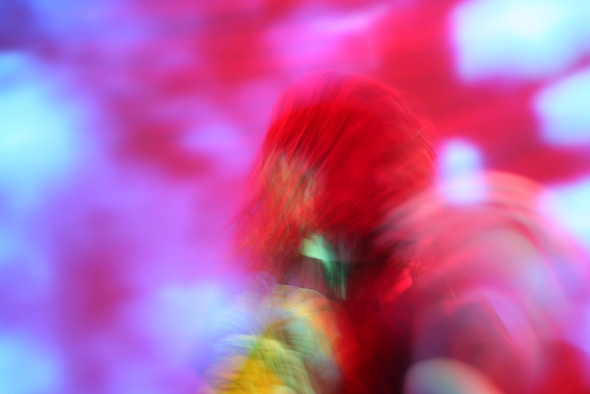 Enter the House of Blues down two flights of stairs into a chaos of dancing bodies, laser beams shooting ecstatic lights above the heads of eager mouths screaming for Ratatat on stage, sweating their faces off to this hell of a crowd.
When you think of a modern rock show, it usually doesn't involve lasers and holograms of birds. But when thinking of Ratatat, it makes sense. This experimental rock duo originating from New York is known for head-bopping beats, and Thursday's San Diego show was no exception.
Opening for Ratatat was a rapper from Queens named Despot. While some in the crowd gave the hip-hop artist a literal thumbs down, some of his lyrics were on point for the generation he represented. He may not have been playing for the most receptive audience, but he acknowledged that by saying "Have any of you been to a rap concert? Well, you're at one."
When Despot left the stage, anticipation was in the air. What were these two giant plexiglass structures for on stage? The techs set up two large bass drums in the middle of the stage — what would those be used for? Then one of the techs pressed play on the pre-recorded beats, which were soon joined by guitar, bass, percussion, synth, and digital harp. Thus started the array of sensory and auditory overload that is a live Ratatat show.
Lasers shot out just above the crowd, and some attendees reached up to grab them while in a danced frenzy. Holograms of statues floated on the plexiglass, rotating. Holograms of birds, holograms of people's twitching faces.
In addition to the light show, there was music: glorious music that caused everyone to instantaneously dance. Dance, not because they were drunk and high, but because the bass entered their bodies. The guitar pied-pipered them into gyrating their hips. One song in and the crowd surged forward, longing to be one step closer to these demigods of experimental rock. After two songs, the place stank of beer and sweat.
Ratatat played all the classics. "Wildcat" was a crowd pleaser. On each "rarrrr" from the pre-recorded tiger, a synchronized orange laser shot out. In the middle, the song picked up and really began to wail.
Though their music was stirring, there was a predictability to Ratatat's movements. Their performance was a delight to watch, but it all felt incredibly rehearsed. Much of the music was predictable to an extent: measured, calculated. It felt as though the band was performing a greatest-hits album that happened to be accompanied by flashy visuals.
Their encore was met with chants of "Ratatat! Ratatat! Ratatat!" During their last song, both drums in the middle of the stage were played simultaneously. All the lasers and holograms came together in one epic finish.