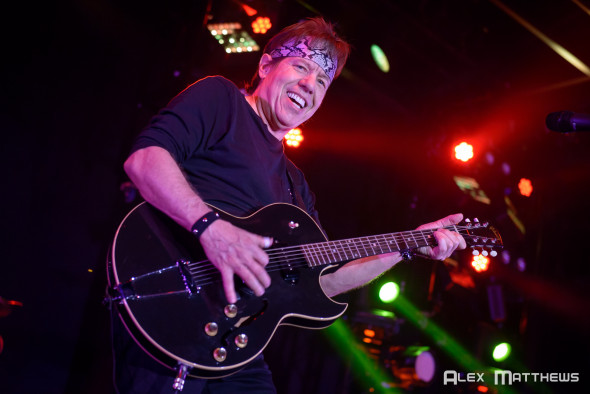 Blues guitarist George Thorogood brought his band of Destroyers to Humphreys Concerts by the Bay on Thursday, June 18. The legendary guitar player strummed and strutted his way across the intimate stage for fans in the seats — and for all the other blues devotees floating in the bay next to the venue.
His signature tone and gravel-voiced delivery delighted most of the audience while his picking skills and guitar solos seemed to mesmerize all the guitar aficionados miming along. Humphreys offers such a beautiful and unique concert experience for this type of show, and this June night was no exception.
Thorogood traces his blues-rock career back to humble beginnings at the University of Delaware, and he is currently touring in support of a re-release of his first album recorded in that state. George Thorogood and the Delaware Destroyers, released just two days prior to this show, was an album originally recorded in 1976.
The re-release is an original version of the band's first album, presented as it was first recorded with just two guitars and drums. The new version cuts out the mixes and bass overdubs that went into the 1977 FM-radio classic George Thorogood and the Destroyers. A full band was luckily present for this show in San Diego and featured long time Destroyers Jeff Simon on drums, Bill Blough on bass, Jim Suhler on rhythm guitar and Buddy Leach on saxophone.
The band played a solid set of hits and covers, including "Bad To The Bone," "I Drink Alone," and a very familiar cover of Bo Diddley's "Who Do You Love?" that got the crowd up on its feet. For his part, Thorogood smiled and mugged for the eager crowd and seemed to enjoy performing immensely. Still playing over 100 shows a year, this veteran blues band clearly knows how to get the audience moving.
Photos: George Thorogood & the Destroyers at Humphreys Concerts by the Bay