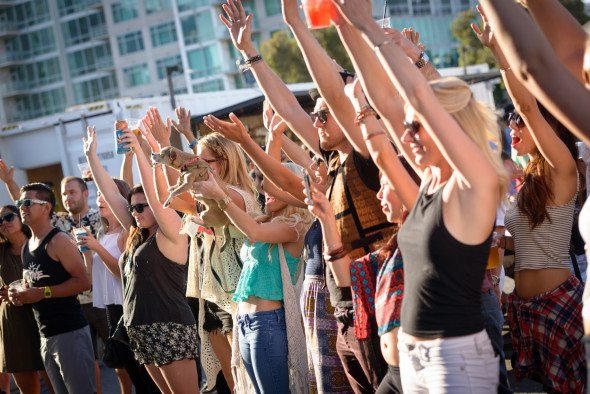 KAABOO is a name that many San Diego music fans first heard this year, but may already know very well.
The inaugural summer music festival heading to Del Mar Racetrack and Fairgrounds on September 18-20 promises to be one of the largest and most diverse concert events of the year. With a lineup spanning three days, seven stages, and 100+ acts, this fledgling festival is aiming high and should fill a long-lingering void in San Diego's festival scene.
Many fans of course fondly remember the Street Scene experience in Downtown, but after that festival crumbled in 2009, there hasn't been a big music fest of its type to please San Diego's fan base. Promising an array of big-name national acts, comedians, food, wine, VIP experiences, and even some local artists, KAABOO seems like a great summer bet.
As part of a warmup series of shows leading up to the large fest, KAABOO (in cooperation with GigTown.com) has held "Discovery Tours" to find local music artists to highlight at the festival. The audience at each show votes to determine a winner.
On Sunday, August 9, the last of these KAABOO Discovery Tour shows was held at the Quartyard in downtown's East Village. There, four amazing local acts took to the stage to vie for a coveted festival slot. The bands for the evening included multi-instrumentalist Jonny Tarr, So-Cal rockers Jet West, the rock-reggae vibe of Stranger Band, and the spunky uptempo flavor of KI.
Hailing from Cardiff, Wales, Jonny Tarr is a San Diego transplant who brings a stunningly diverse array of talent to his performance. Simultaneously singing and playing guitar, sax, and keyboards with the help of looping samples, Tarr was a fantastic opener for the evening. Accompanied by a fierce percussionist, he showed an unrivaled musical ability and the enviable skill of seemingly building songs out of thin air.
Jet West are a quintessential So-Cal band with enough surf, rock, and reggae influence to transport you straight to the beach. They had a huge fan base come out for the show and really lit up the crowd with their solid performance. Singer Scott Floquet clearly felt the vibe as he led the crowd through the group's reggae jams. Comparisons to bands like Sublime, Pepper, and Slightly Stoopid abounded.
With a formula that skewed a bit more heavily towards reggae than rock, the large outfit Stranger Band are a unique and talented group. Headed by singer David Ornelas, the band played through an enjoyable set of clearly multicultural and multi-genre-influenced jams. The horn section of Don Carter and Aaron Hudson was a standout with its infectious energy and dancing beaming throughout the venue. Stirring the crowd into a frenzy, this large group seemed poised to reach bigger venues soon.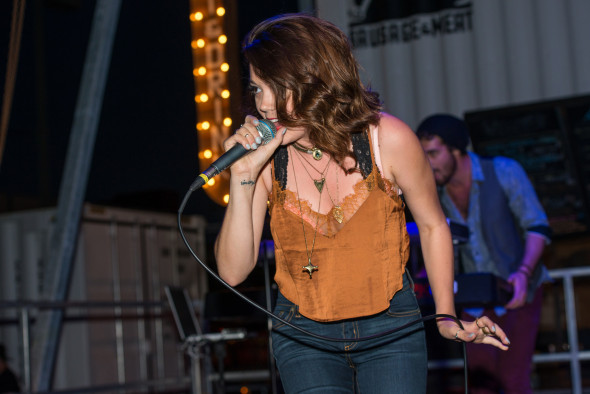 Closing the night's contest, and eventually winning the battle of the bands, were local favorites KI. Led by human ball of fire Kiley Halpern, this five-piece rock band sounded much bigger than the stage setup would indicate. As all the members rocked out and flailed across the stage, Halpern strutted across the whole bandstand, commanding the audience in the most authoritative way of the evening.
KI's sound was a mix of alternative, classic rock, and… flute music. Interesting to say the least. This outfit is clearly skilled and fantastic live, so it was no surprise that the downtown audience voted to send them straight to KAABOO. Be sure to check out KI at the Emerging Artist stage at the KAABOO Festival in just one month.
For more info on KAABOO's lineup, tickets and more visit the festival's website.
Photos: KAABOO Discovery Tour at the Quartyard