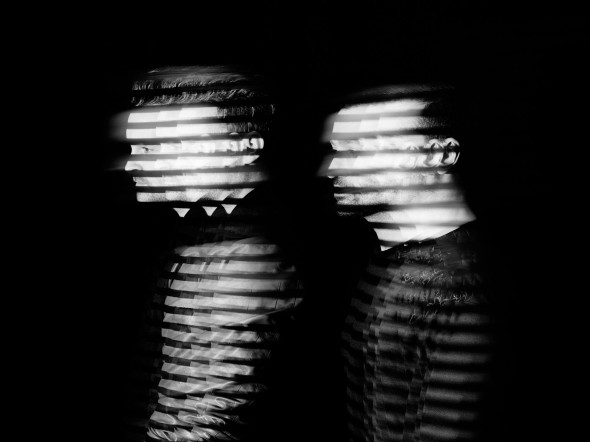 We interviewed the Australian synthpop duo Strange Talk in anticipation of their October 20 Soda Bar show.
In the interview, O&B's Sylvia Borgo and the band talked about the touring life, recording, their festival wishlist and more.
Owl and Bear: You just started your North American tour. You're hitting the best cities on the West Coast before heading across the U.S. to the East Coast and then Canada. How is the tour going so far?
So far, everything that could have gone wrong leading up to this tour has gone wrong. From technical glitches to missing luggage. We landed in Portland four hours before the show to find one of our bags didn't show up, which had all of our cabling for the entire show.
We nearly had to cancel, but we managed to somehow find a store which supplied what we needed and re-wire the whole show. Let's just say it was a super stressful start to the tour, but these things happen all the time and sometimes you've just got to ride the wave!
Owl and Bear: What is the best part of touring life?
Spending time with your mates is a huge thing.
On this tour, we have "The Intergalactix" supporting us for each show, who are also great friends of ours from Australia. It helps when you have a good touring team.
Owl and Bear: Is this your first time in San Diego?
We've been to San Diego a couple of times for previous tours. It's always been a good vibe. The Mexican food is insane. One of our favorite cuisines!
Owl and Bear: When you are on tour, do you have time to work on new music or is the focus mostly on getting ready for the show that night?
There is plenty of downtime on tour. Lots of time spent sitting on a bus/van, or before shows, so we generally make the most of this time by catching up on emails, interviews, and writing music, or making tweaks to the live show.
Generally speaking, and like many electronic acts, all we really need is our laptops and we can work on new music anywhere. Sometimes, if we have a day or two off, we'll hire out a studio and refine the songs we're working on, record vocals, etc.
Owl and Bear: You just released a new EP. What was the process of putting that together?
It took about twelve months from when we started putting it together to it being released. We relocated to L.A. for several months and got some great creative inspiration out of being there.
We wrote a whole heap of music and even collaborated with a bunch of different artists. After a few months, we had about fifteen finished demos and chose the five tracks we thought were best suited for the EP.
Owl and Bear: Your new single "Painted Gold" is out now and has you collaborating with Bertie Blackman. How did this partnership develop?
We were just huge fans of Bertie's voice and we thought we could do something really cool together. We reached out to our publisher, who contacted her team and within a week or two, we had a studio date together!
Owl and Bear: What do you miss most about Melbourne when you are away on tour?
Friends, family, and coffee are three things that spring to mind. Especially around this time of year when it's summer, holidays are starting, BBQs, etc.
Owl and Bear: Who are you listening to right now? Any new acts or old favorites?
This is something that changes so often for us. We listen to so much music and are constantly hunting out new music through the likes of blogs, social media, etc. Right now, we're really digging Odesza and Porter Robinson. That new Vincent remix of "Here" by Alessia Cara is so good, and we're also loving an awesome producer called Billboard! We're always looking out for new remixes.

Owl and Bear: If you could put on your very own summer festival, who would you invite to play?
There's just so many but here's a list off the top of our head: Drake, Kendrick Lamar, Q-Tip, Porter Robinson, Daft Punk, Justice, Madeon, Royksopp, Bob Sinclair, The Chemical Brothers, Soulwax, Deadmau5, Kanye, Jay-Z… I think this is a start and we'd already be well over budget!
Owl and Bear: What is one band or who is one artist that you know you should like, but just can't seem to get into?
Respectfully, Mumford & Sons – again, this is an "off the top of the head" answer. They write great songs, but I guess just not a sound we get into.
Interview has been edited for style and clarity.