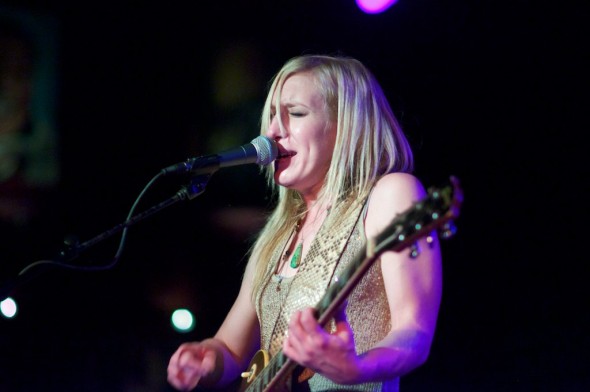 Though the lineup has seen significant changes throughout the 13 years they've been together, Heartless Bastards have consistently toured as a power trio with lead singer/guitarist/songwriter Erika Wennerstrom at the center.
With her direct, soulful vocals and conscice, biting songwriting, Wennerstrom has taken her band around the world, gaining the adoration of critics and fans alike. There are a lot of reasons to love Heartless Bastards, but as with a lot of great bands, it's something in the way they subtly explore the borders of a genre that keeps people listening and excited. This is something Heartless Bastards do flawlessly and with seemingly very little effort.
Heartless Bastards were set to do just that at the Belly Up last Monday night. But first, opening band Slothrust came out and blew at least a few minds.
Their sound was strikingly similar to Heartless Bastards', but there was an edge to Slothrust's music that's rare coming from a roots-based band. Their songs morphed from melodic and pretty to aggressive and drudging. At times, it sounded like something off of Heartless Bastards' classic album Arrow, and at other times it sounded as fast and grungy as anything from Nirvana's Bleach. The lead guitarist's solos were charmingly stilted, adding a bit of fun to the heavy set. Overall, Slothrust were a great surprise and a perfect lead-in for the main event.
When Heartless Bastards launched into opening song "The Mountain," it was apparent that the mix was off. As the song went on, it became clear that the all-around-awesome Wennerstrom didn't think it was quite right either. Her vocals were being drowned out by the drums, and the mix overall was a fuzzy mess, and not in a good way.
If you love Heartless Bastards, you love them for a lot of reasons — the songwriting, the imagery the music conjures, the kick-ass guitar work — but chances are Wennestrom's voice would be at the top of your list. It took three songs of the band trying to convey that Wennerstrom needed to be turned up and the audience shouting "More vocals!" but the sound person finally got it right.
Once the mix was corrected, the band settled into a nice rhythm and the crowd followed suit. Although the venue was surprisingly not even close to sold out, those in attendance filled the space with a little bit of dancing and a lot of big smiles and good vibes.
The pervasive feeling of the night was one that can often be felt while watching world-class musicians play together: gratitude. I felt so greatful, honored even, to witness a small moment in this band's history. Hopefully Heartless Bastards will keep doing what they do: playing great music and coming to San Diego to share it with us all.