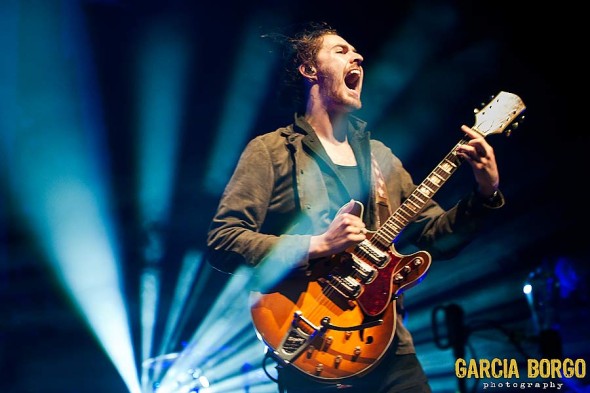 Andrew Hozier-Byrne, a.k.a. Hozier, made fans swoon with his sweet and soulful voice at SDSU's Open Air Theater on October 15.
In addition to the fans inside the sold-out venue, about two hundred people had camped out on the grass and on benches nearby. Others were hanging out by open windows in the neighboring SDSU buildings. The just wanted to hear Hozier sing.
There were plenty of devoted fans of the Irish singer and songwriter inside the venue, as well. Those seated nearest to the stage got up and created a mass of people near the stage. Even though it was a polite crowd, security guards made them return to their seats.
Hozier's voice is incredibly powerful and there were many wonderful moments that night, including crowd favorite "Someone New," which elicited a great, big singalong. The songwriter also performed a bluesy, groovy cover of The Beatles' "Blackbird."
Hozier introduced the quiet and romantic "In A Week" by saying, "I'm from the Wicklow Hills. It is an expansive area with rivers and valleys. This a song about two lovers who go off to lay in a field and do what lovers do best." It was my most favorite moment of the night: just Hozier with his guitar, singing a duet with cello player Alana Henderson.
Dublin's Little Green Cars were the supporting act and wowed the audience with their complex harmonies and exuberance on stage. They played a good mix of new material as well as hit songs "Harper Lee" and "The John Wayne" off of their 2013 album Absolute Zero. To listen to our 2013 interview with the band, click here.
Photos: Hozier at the SDSU Open Air Theatre