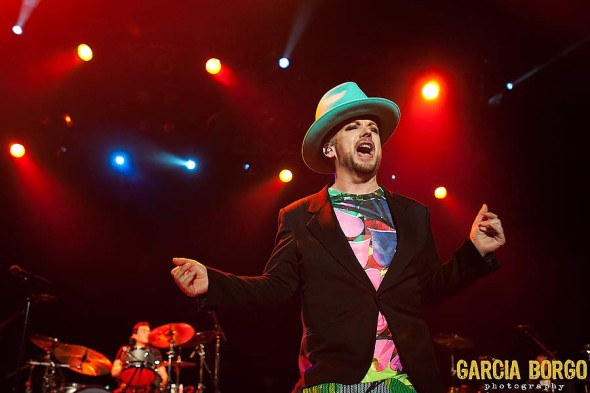 Culture Club stopped by Southern California on February 19 to play a sold out-show at Pechanga Casino.
The band took the stage after a short film documenting its rise to superstardom in the '80s, as well as the band's darker moments.
Commanding the stage with diva moves — pouty lips, sashaying, batting eyelashes — Boy George wore a colorful tunic and blazer over patterned pants. He topped off his outfit with a blue, Canadian Mountie hat.
George, a natural entertainer, kept the audience laughing with his banter. When audience members in the front row turned around to try to take selfies with band members onstage in the background, George said,"I invented pouting. I've been doing it since I was seven years old, longer the Kardashians." He pointed out several fans and commented on their outfits, "You've got it all going on, honey. A little bit of Motley Crue, a little Madonna. It's fabulous."
The band performed all of its hits, including "Church of The Poison Mind," "I'll Tumble For You," "Do You Really Want to Hurt Me," and "Karma Chameleon," before closing out the show.
For the finale, the band played two covers: T. Rex's "Get It On" and David Bowie's "Starman" —  which Boy George introduced by saying, "I am the biggest David Bowie fan in the world. We've been closing out our show with this song for some time now, which now takes on more significance."
Culture Club at Pechanga Casino