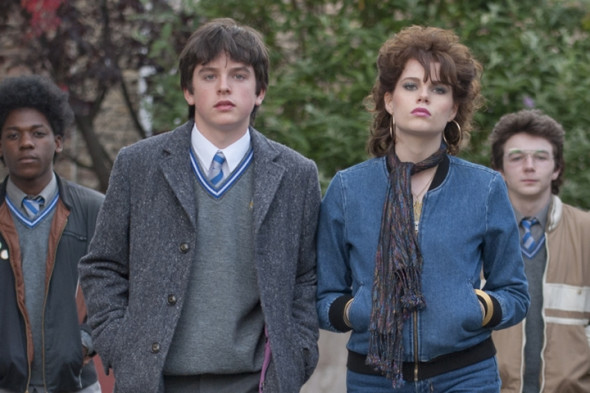 We're all dealt certain cards in life. And some of us get better hands than others. The difference in how things pan out is based on how you play your hand.
In Sing Street, the new film from writer/director John Carney (Once, Begin Again), Conor (Ferdia Walsh-Peelo) is a 14-year-old boy growing up in Dublin circa 1985. To cut back on expenses, his financially struggling and constantly fighting parents decide to move Conor from a "posh" institution to a public school. It's a tough switch for the sensitive teen who soon crosses paths with the resident bully and just-as-nasty headmaster.
Conor's salvation begins when he lays eyes on Raphina (Lucy Boynton), a too-cool-for-school model with plans to pursue her career in London. The quick-thinking and confident lad seizes the moment and invites Raphina to star in his band's video. When she agrees with some uncertainty, it strikes him that he'll actually have to form a band. With that, Conor's musical journey is set in motion.
As Conor assembles his motley group of novice musicians, Sing Street strikes a funny chord. Ramping up for the video shoot, the boys' quirky personalities and one-liners (sometimes difficult to make out under their strong Irish brogue) start to come out. When Raphina shows up for her moment in the spotlight and sees how ridiculous they look, you think she's going to reconsider her decision. Instead, she helps pull them together, guyliner and all. It's one of the funniest moments in the film.
https://www.youtube.com/watch?v=C_YqJ_aimkM
Set in the mid '80s, one of Sing Street's many endearing qualities is its nostalgic soundtrack, much of which seeps through as Conor watches videos like Duran Duran's "Rio" and listens to records by everyone from The Jam to Joe Jackson with his older brother, Brendan (Jack Reynor), a college drop-out who spends most of his days at home getting high and philosophizing about the less-than-perfect life around him.
As the band gets progressively better (a little too quickly) and Conor and Raphina spend more time together, you discover that her beauty covers up some scars of her own, including the reason why she's living in an orphanage. Carney's deft storytelling subtly weaves in details as the two teens start developing strong feelings for each other, and the chemistry between Walsh-Peelo and Boynton is palpable.
But the real love story at the heart of Sing Street is between Conor and his brother (Carney supports this in the credits with the dedication "For brothers everywhere"). Brendan clearly enjoys sharing his record collection with his younger sibling and educating him on different styles of music. Soon, these influences rub off on Conor and he shows up to school looking like Simon Le Bon one day and The Cure's Robert Smith the next. While humorous, it makes you wonder how he was able to afford all the on-fashion outfits when he couldn't buy one pair of black shoes to fulfill the school's dress code.
Brendan also sets his brother straight when Conor attempts to follow a process for making music, saying rock and roll is about risk. It's a pivotal scene wonderfully played by Reynor and a metaphor for life that plays out in interesting ways as it relates to Brendan's past and Conor's future.
Like Once, Sing Street is a charming, poignant film about the transformative power of music fueled by a stellar ensemble cast, most of whom you don't know. Inspired by Carney's life, it's one of those rare films where you become so immersed in the story and its rich characters that you never want it to end.