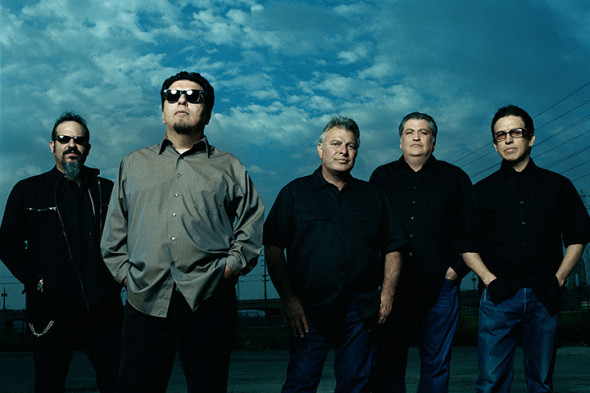 "That was an old tune," said Los Lobos guitarist and singer David Hidalgo after the band wrapped up "Just a Matter of Time," the soulful ballad off their landmark 1984 album How Will the Wolf Survive? Los Lobos have been playing, touring, and making albums together since 1973, when the group first came together in their native East Los Angeles.
"Well, they're all old tunes now," Hidalgo said.
To the band's credit, this is a bit of an exaggeration. They don't just play old material. In fact, their latest studio album was released just last year — the same year, by the way, that they were nominated for induction into the Rock and Roll Hall of Fame. (They weren't inducted, and it's worth noting that other legendary nominees also failed to make the cut last year, including The Smiths, The Spinners, and Nine Inch Nails.) They've always been a textured band, with a baritone sax, accordion, and other backup instrumentation that set them apart from other groups in their scene.
That scene was Slash Records, LA's homegrown punk label that formed around The Germs and similar bands of the era, including Los Lobos and X. Los Lobos had a different sound, more rock and roll than punk, but they had and continue to have an undeniable edge.
Attendees at the Observatory North Park saw firsthand how aging punks go insane when Hidalgo strapped on his accordion and the band kicked off a semi-traditional Mexican norteña.
During the closer for their set, when they transitioned from "La Bamba," the cover that first put them on the charts in 1989, into The Young Rascals' "Good Lovin,'" every head in the audience wasn't just nodding but banging. It would be exaggerating to say that there was a mosh pit during their set, but it was the closest I've ever seen to one during a Richie Valens cover.
This was a Slash Records reunion, after all, and people wanted to rock out. When X started their set you could tell that this crowd was in the right place — judging by the gray hair and vintage concert shirts, many of these folks had seen the bands before.
While the members of X have all been busy, both individually and with several reunion stints dating back to the mid-1990's, they haven't added much to their two first albums, which are considered classics of the genre. For this show, they dove right into those albums, Los Angeles and Wild Gift, and the eclectic punk-rockabilly hybrid sound from those early productions was unmistakable.
Bassist John Doe is still the energetic backbone of the band. On stage he assumed the universal rock and roller side stance, facing center stage with left knee slightly bent, jamming hard on his bass. Singer Excene Cervenka is still the quintessential, frenetic front woman. At one point she shouted into the mic, "Here's a song I wrote 40 fucking years ago!"
These two continue to look and feel like the creative force behind X, while Billy Zoom on guitar is still clearly the technician. His fills and rockabilly scale runs give otherwise simple tunes a boost of complexity. Zoom stayed seated throughout the show and, compared to his band mates, seemed detached while onstage. It's hard to blame the guy, though: they did write those songs 40 years ago.
It's easy to be punk rock when you're young, but honestly, what's more punk rock than getting old? Going hard when everything hurts and you're in decline — now that's badass.